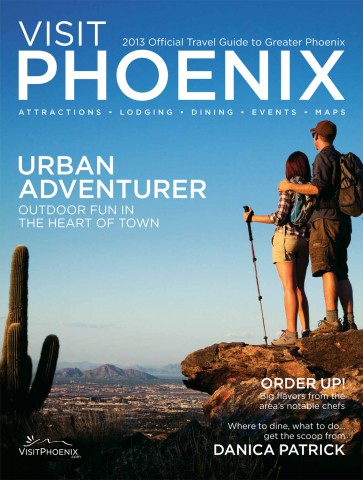 Planning a trip to Phoenix? Have an iPad? Download the FREE Official Phoenix Travel Guide for iPad in the Apple App Store.
The 2013 Phoenix Official Travel Guide app transforms the print magazine into an interactive, user-friendly experience. Custom built for the iPad, this sleek and exciting app takes users on a virtual journey through Greater Phoenix. Tap to watch a video of an Iron Chef winner sharing his favorite places to hike in Phoenix. Pull out an embedded sidebar for a list of foodie festivals around town. Swipe to see where local celebrities like to dine. Slideshows, videos and live links take full advantage of the tablet's agility. Everything about this app will inspire users to explore, enjoy and engage with Greater Phoenix.
Features
• Dual-orientation layouts allows users to navigate content easily
• Intuitive interface delivers an immersive experience
• Lush, visual photography brings Greater Phoenix to life
• Niche feature stories appeal to specific interests
• Layered content gives an overview of the Greater Phoenix travel experience
• Full-page advertisements add additional elements
• Live links encourage engagement with Greater Phoenix through blogs and social networks
Don't have an iPad? That's okay. You can still order a hard copy or download the online version for FREE.