Our media relations intern Andrea recently visited the Desert Botanical Garden and its new restaurant Gertrude's . She offered to provide her insider's perspective of this popular attraction. Enjoy!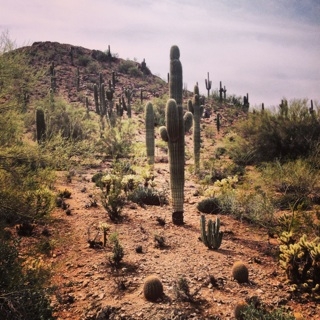 I recently had the opportunity to visit the Desert Botanical Garden, a popular attraction to both locals and visitors. It's considered a "Phoenix Point of Pride," and has over 50,000 desert plants to see and learn about.
The Desert Botanical Garden first opened in 1939 after a group of Phoenix locals saw the need to conserve the desert environment. Today, the Garden continues to grow and currently has 145 acres of desert plants not just found in the Sonoran Desert, but from other deserts around the world.
There are five thematic trails at the Garden that you can go on. My personal favorite is the Plants and People of the of the Sonoran Desert Trail which shows visitors the relationships between people and plants in our region and how the plants are useful when it comes to needing food, medicine and fiber. As you walk through this trail, you get an understanding of how past Indians used the desert to their advantage.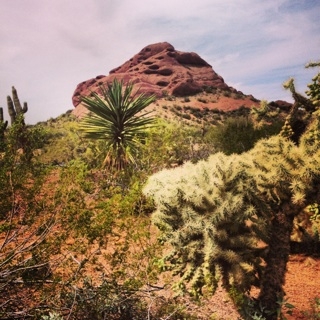 Walking along the other beautiful trails, you'll find the scenic views are incredible. There are many hills surrounding the whole area that covered with hundreds of different types of cacti, as well as Papago Park in the distance. And, if you're lucky, a roadrunner or quail might cross your path.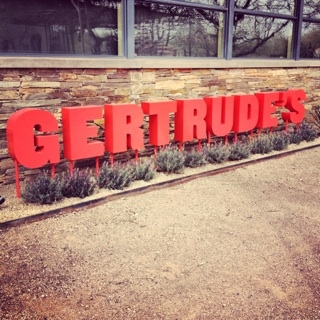 Earlier this year, the Garden opened a new restaurant called Gertrude's, which was named after Gertrude Webster who founded the Desert Botanical Garden. The restaurant focuses on utilizing fresh ingredients from farmers and artisan food producers from around the state of Arizona and the Southwest. They kitchen even uses some of the fresh herbs and vegetables from their own garden located on the property.
Since the restaurant just opened at the end of January, I was very excited to go. Our group was seated outside on the patio, which was gorgeous. There were beautiful desert plants surrounding it and thankfully, a lot of shade to keep the Arizona sun at bay.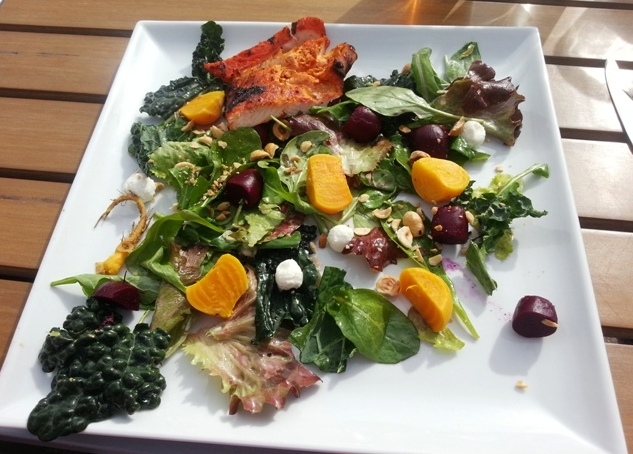 Everyone at my table ordered from the lunch menu and everyone seemed to be happy with their choices. Some unique items included:
Chicken Sandwich (Achiote + Citrus Marinated Chicken Breast, Apple Wood Bacon, Avocado, Arizona Cheese Co. Pepper Jack, Jicama, Napa Cabbage, Brioche Bun)
Beets Salad (Garden Beets, Seasonal Lettuces, Crow's Dairy Cherve, Maple-Sherry Vinaigrette, Hazelnuts)
Sonoran Dog (Bacon Wrapped Shriener's Beef Hot Dog, Avocado, Tepary Beans, Queso Fresco, Tomatillo Relish, Poppy Bun)
The food was absolutely delicious and the atmosphere is great. If you want to get away from the city and enjoy a few hours getting drinks and food, Gertrude's would be a great place to go.
Overall, my experience to the Desert Botanical Garden and Gertrude's was fantastic – I highly recommend going. And if you want to be surrounded by hundreds of butterflies, be sure to go between now and May 12 for the Spring Butterfly Exhibit.