Our communications intern Tayllor recently attended a sneak peak of the Antonio Berni: Juanito and Ramona exhibit at Phoenix Art Museum. She offered to provide her insider's perspective of this exclusive exhibit. Enjoy! 
Step out of your comfort zone and into another world at the Phoenix Art Museum's exhibition Antonio Berni: Juanito and Ramona, opening Saturday, June 28, 2014.
Antonio Berni's work explores the lives of two fictional characters, Juanito Laguna and Ramona Montiel, in the not-so-pretty conditions of Argentina in the 1960s and '70s. The two are depicted growing up and fighting their "monsters" in a harsh world that threatens to swallow them up.
I was fortunate enough to be able to get a sneak a peek of the exhibit before it opened, and I have to say it was one of the most powerful exhibitions I've come across. Berni's work is hanging from ceilings, projected onto white walls, and threatening to crawl at you from the floors, all while using discards from everyday life.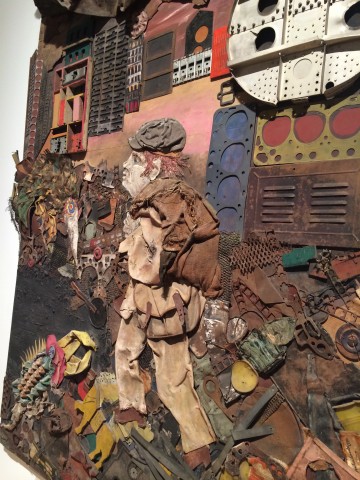 Berni's "Juanito" was created as a character of a young boy who left his home in the countryside to seek work in Buenos Aires and ended up living in poverty on the city's outskirts. Ramona, on the other hand, was a young working-class woman who was lured into a life of high-society prostitution. Over the latter part of the 20th century, Berni's invented characters became so well known that they attained cult status in Argentina as popular legends and folk heroes.
Juanito is seen as an "every man," with many different faces in the paintings and assemblages, most often in a boyish state. Meanwhile, Ramona is pictured in almost a femme fatale state growing into a strong woman, though she isn't without her demons. Both characters seem to have a tangible optimism throughout the artwork, despite the conditions they're fighting against.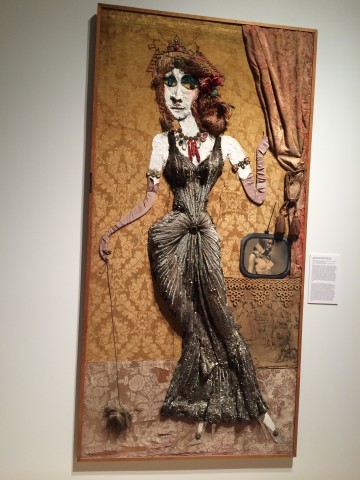 Berni constructed narratives of Juanito and Ramona's lives in his artwork through the use of everyday items discarded around him. For Juanito he used waste materials like old wood, machine parts, and crushed tin cans found littering the shanty towns of Buenos Aires, while for Ramona he used gaudy costume jewelry and chintzy, second-hand fabrics. Everything is combined to create works of art that literally feel as if they might jump out at you.
"This landmark exhibition showcases Antonio Berni's creative genius to great effect," said Joe Lampe Curator of Latin American Art Dr. Vanessa Davidson. "The works are fascinating."
The exhibition contains more than 100 objects by the groundbreaking artist. Berni rose to prominence early in his career as a leading painter and promoter of "New Realism" in Latin America. In the mid-1950s, he abandoned painting for a more visceral artistic medium: assemblage. In 1958, Berni began the legendary series of works on his two characters that are now presented on a massive scale in the rooms of Phoenix Art Museum.
Antonio Berni: Juanito and Ramona will be on display in Phoenix until September 21, 2014.