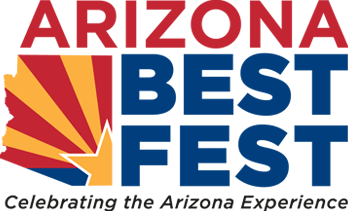 This weekend the Arizona Centennial Commission and 2012 Foundation hosts its premier Signature Event — Arizona Best Fest Phoenix, Saturday, February 11, noon-10pm; and Sunday, February 12, noon-6pm. There will be a FREE street extravaganza of mainstage headliners, educational traveling museums, cultural villages, a Western town "" even the climactic destination of the Arizona Centennial Motorcycle Ride — along with an Arizona storytellers theater, Arizona wines and craft beers, Arizona 100 art show, family fun zone and much more "" all brought to residents and visitors alike, by a bevy of proud private sponsors and donors.
The "best of Arizona" celebration overtakes the Arizona State Capitol complex and its streets from 10th Avenue on the east to 17th Avenue on the west, traversing along Washington Street, aka "Centennial Way," and rounding the bend from 17th Avenue onto Jefferson.
Cooper Dome Main Stage Schedule – A Showcase of Arizona Entertainment
Saturday, February 11th
12:30pm Marshall Trimble
1pm Dolan Ellis
1:45pm Rex Allen Jr.
2:45pm Dennis Rowland & the Extreme Decibel Big Band
5:30pm 'Salute to Arizona' with Governor Janice K. Brewer & Dierks Bentley (Celebrate Arizona Centennial Official Mascot Copper Chopper completing its 17-month tour; plus HOME Official Song of the Centennial Commission, plus Premier Cultural Performances from Villages and Western Town)
6:30pm Jerry Riopelle
7:45pm Michelle Branch
9pm Gin Blossoms
10pm Fireworks
10:15pm Arizona Best Fest Phoenix Closes
Sunday, February 12th
Noon Arizona Cultural Performance Showcase
1pm Ronstadt Family Traditions
2pm Rex Allen Jr.
3pm Esteban
4:30pm Copper Chopper Final Drawing- 4:30 pm
4:45pm George Benson
6pm Arizona Best Fest Phoenix Closes- 6 pm
Educational Pavilions, Cultural Villages, Western Town and Sports Zone
Arizona Best Fest attempts to bring the 'best of Arizona' through a series of educational pavilions featuring the Stevie & Karl Eller Arizona History Pavilion; a Military History Pavilion; the University of Arizona Science & Future Pavilion; the Resolution Copper Natural Resources Pavilion; an APS Renewable Energy display; the Shamrock Farms Family Fun Zone; the Giant American Indian Village; the ARSARCO Hispanic Village with Zumba and traditional equestrian dancers; the Discount Tire Western Town with gunfights, saloons, cowboy gear, and re-enactments; an Arizona Cardinals/Arizona Diamondbacks/Phoenix Suns Sports Pavilionand even a rich verbal history of the Arizona Experience in The Arizona Republic Arizona Storytellers Theater.
Arizona food, wine, fine art and craft beer
What Arizona event is complete without a showcase of wineries presented by the Arizona Wine Growers Association; craft beers by the Arizona Craft Brewers Guild and the AZ 100 Fine Arts show.
Parking
Guests are encouraged to take the Light Rail and connect with city buses to the east main entrance of Arizona Best Fest Phoenix, at 10th Avenue and Washington. Additional buses are planned from the Light Rail station to the east entrance.
Arizona Centennial Ride and Copper Chopper Drawing
The Signature Event of the Arizona Centennial Commission on Saturday, February 11, 2pm, sponsored by Law Tigers, is a historical motorcycle tour, already pre-registered with 750 enthusiasts and begins at Mesa Riverview where participants are expected to gather for registration 11am — 2pm. Participants must register in advance.
The Ride to the Arizona State Capitol rolls out at 2pm, led by Phoenix native and "Ride" Honorary Chairman Dierks Bentley, along with official mascot of the Arizona Centennial, the Copper Chopper which will ceremonially complete its 18-month tour to every corner of the state raising high levels of awareness and enthusiasm during the Countdown of the Arizona Centennial, and will be driven by its renowned designer and Arizona resident Paul Yaffe.
The Arizona Copper Chopper will be given away in a final drawing Sunday, February 12 at 4:30pm.  To enter the bonus drawing at Arizona Best Fest, one must enter at the Arizona Copper Chopper display on Saturday, February 11the from noon until 8pm.
Gov. Janice K. Brewer will greet the top 48 riders in the Arizona Centennial Ride (48 being significant because Arizona is the 48th state admitted to the Union) at 17th Avenue in front of the Capitol itself, welcoming Bentley, and providing official closure to the Arizona Centennial Copper Chopper Tour, which she christened for its maiden statewide outing in October 2010 at the Arizona State Fair. The majority of riders will park their choppers along Jefferson, resulting in massive rows of diverse and colorful motorcycles for Best Fest visitors to review and admire as well.
Surrounding Sites
As Arizona's Capitol complex becomes the destination for Arizona Centennial weekend, two stops are a must in the surrounding neighborhood:
Pioneer & Military Memorial Park Cemetery
This historic site is open during Best Fest, at 14th Ave. and Jefferson. See the graves of such pioneers as Jacob Waltz of the famed Lost Dutchman mine, Darell "Lord" Duppa, credited with naming the villages of Phoenix and Tempe, Tom Graham, the last man killed in Arizona's Pleasant Valley War, the first and many of the earliest Maricopa County Sheriffs, and many more of our pioneers. Also tour Smurthwaite House Museum built in 1897 and home to memorabilia and antiques of local Arizona Territory pioneer families. FREE.
Arizona Capitol Museum & Museum Store
Open Arizona Best Fest weekend Saturday & Sunday February 11th and 12th from noon — 3pm, and on 100th Statehood Day, 9am-4pm. Listed on the National Register of Historic Places, construction began in 1899 when Arizona was still a territory to serve as the capitol building. It was dedicated in 1901, 11 years before statehood. Today the building serves as the Arizona Capitol Museum and continues as part of a multi-site capitol complex. The stunning USS Arizona silver service is on display; all four floors will be open to the public, including the 3rd floor House Chamber of the museum which was the site of the 1910 Arizona Constitutional Convention. Walk the halls of those who framed the state's constitution.
 Download the map and full schedule.