Miss Arizona when you leave? Order or take home these Arizona-made products to get you by until your next visit!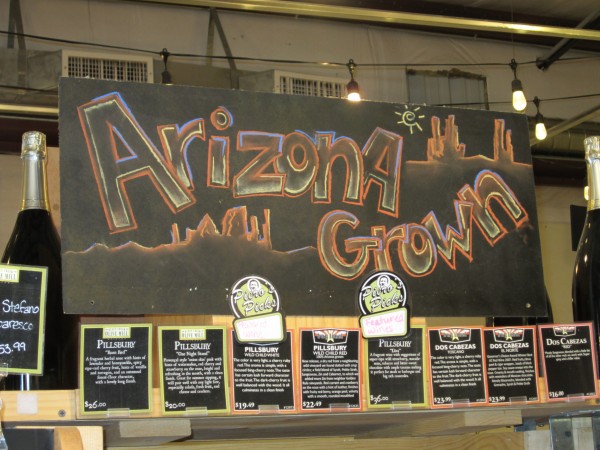 Queen Creek Olive Mill Olive Oil
The Queen Creek Olive Mill is Arizona's only olive mill, producing extra virgin olive oil and a variety of flavored olive oil. Flavors vary from truffle to chocolate to bacon!
Cosanti Originals
Windbells designed by world-renowned architect Paolo Soleri are handmade and come in a variety of designs. Proceeds help fund Arcosanti, Soleri's experimental eco-community near Cordes Junction.
Carolina's Tortillas
When in Arizona stock up on the best tortillas in town from Carolina's. Our family and friends are known to fill their suitcases with the paper thin, melt-in-your-mouth delicious flour tortillas.
Arizona Wine
Arizona wine has been receiving quite a bit of attention these days. Leaders in the Arizona wine business like Arizona Stronghold and Pillsbury Wine Company have been making strides in getting Arizona wines on the map.
Arizona Beer
Four Peaks Brewing and San Tan Brewing are just a few of the Arizona craft beers that have been gaining popularity. While in town enjoy some of the classics like Four Peak's Kilt Lifter and then grab a six pack to enjoy back at home.
Refresh Glass
If you're wondering what all of the locals do with their leftover Arizona wine bottles, you'll know when you see the vases, glass and more from Refresh Glass.
Holy Pinata
Do you cactus Phoenix? New York has its heart, we have a cactus. Holy Pinata created their "I cactus PHX" t-shirts out of a love for Phoenix and as a way to help the local community by donating 10% of every sale to a local charity.
Cactus Candy
Cactus Candy has been made in Phoenix since 1942, using Arizona prickly pear juice. The company also manufactures jellies, salsas and syrups made of products found in the Sonoran Desert.
Fairytale Brownies
These may well be the perfect brownies. Gooey, crunch and oh so choclately — we recommend buying an extra box or two.