When it comes to the best things to do in Phoenix, few people know more than the experienced concierges at Greater Phoenix's resorts and hotels. We've got tips, secrets and recommendations from more than a dozen concierge hosts.
This week we feature Cory Daniel of the Scottsdale Resort & Conference Center (now the Scottsdale Resort at McCormick Ranch).

Cory Daniel of the Scottsdale Resort & Conference Center
What is your favorite experience in Greater Phoenix?
In general, all the downtown events and nightlife, including First Fridays on Roosevelt Row. Downtown is a haven for artists, musicians, poets and writers, and has a healthy underground scene. Check out the Crescent Ballroom and The Film Bar.
What are your top five recommendations for visitors to do/see while they are in Phoenix?
1. Musical Instrument Museum
2. Taliesin West
3. Desert Botanical Garden
4. Heard Museum
5. The Apache Trail
What are your favorite Phoenix restaurants?
 
Comedor Guadalajara. The most authentic Mexican food in Phoenix, hands down.
Michelina's Ristorante Costa Campagnia. The finest Italian seafood in Phoenix.
Christo's Italian Restaurant. In 20 years, every meal I've eaten there has been outstanding. They have the best escargot and an extensive wine list.
Also, Mariscos Playa Hermosa and Durant's.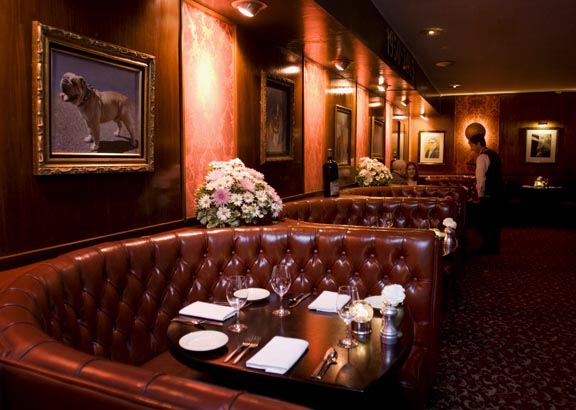 Durant's

What "touristy" things do you think locals are missing out on?
I'm not sure some locals truly appreciate how good our museums are. The history of the Hohokam culture in Phoenix is fascinating, and it's on elegant display at places like Heard Museum and Pueblo Grande Museum and Archaeological Park. Phoenix was named for its rebirth of this once-great civilization complete with canals, agriculture, trade and a complex social structure but many locals and transplants don't have a full understanding about what once took place right under their feet.
Who is your favorite local character?
The John Wayne look-alike Ermal Walden Williamson. He is an author, actor, John Wayne impersonator and all-around nice guy. Mr. Williamson sells his books on a street corner in Old Town Scottsdale. Stop by have a chat with him, and he'll be more than happy to tell you stories about "The Duke" or the Old West or even current affairs.
Tell us your favorite off-the-beaten-path or hidden attraction, restaurant, etc.
I have two. Mariscos Playa Hermosa is my current favorite restaurant. This hidden treasure sits on the corner of 16th Street and Garfield and specializes in Mexican seafood cuisine. Octopus, stuffed filet of fish, shrimp, clams, oysters, ceviche and tacos are all on the menu.
Second is the Pueblo Grande Museum. This museum houses one of two of the last preserved step mounds of the ancient Hohokam who once thrived in the Phoenix basin.
If someone only had one day to explore Phoenix, what would you recommend that they do?
It really would depend on the person. If they wanted to concentrate on downtown Phoenix, I'd point them to one of our great museums or perhaps the Arizona Science Center, followed by a meal at Mariscos Playa Hermosa. After that, I recommend an evening at Seamus McCaffrey's or The Rose and Crown.
If they wanted to see other parts of the Valley, I would probably recommend a jeep tour, which allows travelers to learn about Sonoran Desert ecology, frontier settlement and Native American cultures. Follow that with a meal at one of our great Mexican restaurants, and take in the sunset at the Orange Sky Lounge on the 15th floor of Talking Stick resort.
Any other advice for visitors to Phoenix?
Phoenix offers spectacular shopping opportunities, but don't spend all your time here doing that. I would encourage you to immerse yourself in the rich history and culture of the American Southwest. Get off the beaten path, out of your comfort zone and experience something new. The sun is hot here and the food is often hotter, so embrace it. For as young as Phoenix is, it truly has a unique history and cosmopolitan culture.
Tell us about the Scottsdale Resort & Conference Center:
SRCC is a gem of a hotel located in the heart of McCormick Ranch. We've catered to businesses of all sizes, providing impeccable service for over 36 years. In 2000 we opened our doors to leisure guests. We provide an unmatched level of service and special attention to our guests' needs. The beauty of the grounds and the rich texture of the facility give a soul to our resort, while our long-term employees attest to the relationships we've built with both our clients and the community of Scottsdale.