When it comes to the best things to do in Phoenix, few people know more than the experienced concierges at Greater Phoenix's resorts and hotels. We've got tips, secrets and recommendations from more than a dozen concierge hosts, and we'll be sharing their insider knowledge with you during the coming months.
This week we feature Pam Swartz of The Hermosa Inn.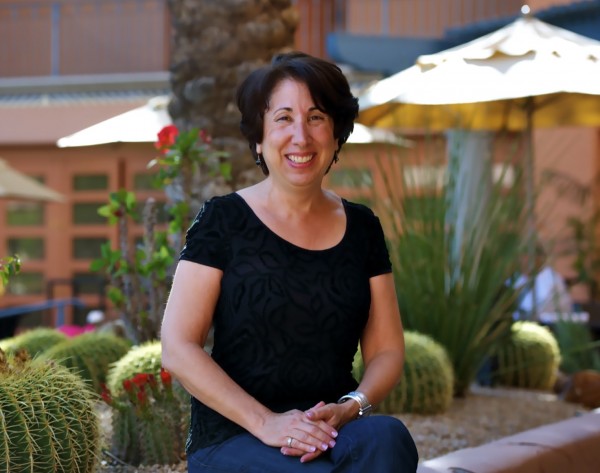 What are your favorite Phoenix restaurants?
LON's at the Hermosa: For obvious reasons, including Chef Pacheco's farm-to-table American fare, our gorgeous patio with breathtaking views and the intimate spaces, such as our underground wine cellar.
Postino: The quintessential wine bar, now with three locations throughout the Valley, they have some of the best bruschetta in town with a wine list that's always changing.
Nobuo at Teeter House: Whoever says you can't get great Japanese food in AZ has never been to Nobuo's downtown restaurant. Be it sushi or just Asian-inspired dishes, Nobuo creates some amazing cuisine.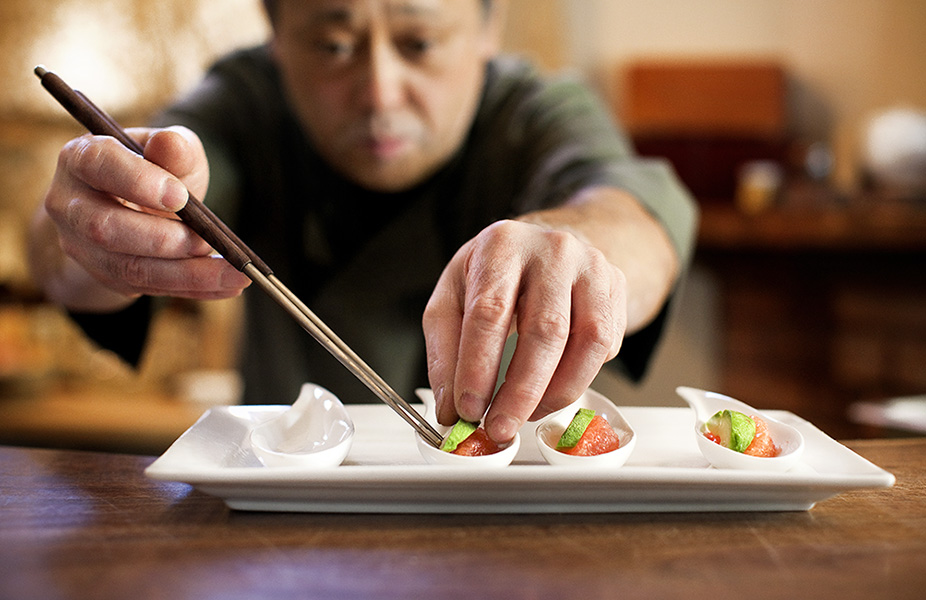 Nobuo at Teeter House

What are your top five recommendations for visitors to do/see while they are in Phoenix?
1. Soak up some local arts & culture. Between what's here on property (Artist-in-Residence series, original Megargee works and our $2 million art installment from Figarelli Fine Art) and what's on view at nearby museums like the Musical Instrument Museum and Phoenix Art Museum, there is plenty to do here that will enrich your cultural knowledge.
2. Take a hot-air balloon ride. Phoenix has the perfect climate for this once-in-a-lifetime experience, and I urge all guests to give it a try, be it a morning ride to see the sunrise or a sunset trip to spark some romance.
3. Visit a spa. No trip to Arizona is complete without a visit to one of our amazing spas. Whether at the Hermosa Inn's Blue Door Spa Suite, or one of the many surrounding resort spas, it's a can't-miss opportunity for some rest and relaxation.
4. Eat and drink! Arizona continues to rise in the nation's culinary ranks and boasts some of the top chefs in the West. With gorgeous weather and amazing patios (like that of LON's), along with both casual-dining and fine-dining options, you can't go wrong eating and drinking your way through the city.
5. Take in the outdoors. Be it a hike to the summit of Camelback Mountain, a run on the Arizona Canal, or a day or two of golf at some of the championship golf courses across the Valley, it's hard to not be outdoors enjoying this great weather.
What "touristy" things do you think locals are missing out on?
The Desert Botanical Garden. I feel that as a "local" we sometimes take our native flora and fauna for granted, and the various exhibits and natural marvels showcased at the Desert Botanical Garden are not to be missed. The garden is home to cactus and succulents you would normally need to travel across the state to see, as well as plants that grow in deserts in other parts of the world.
If someone only had one day to explore Phoenix, what would you recommend that they do?
Start the morning with a hike, followed by a relaxing massage; grab lunch or brunch at one of the many amazing restaurants here in Phoenix; spend the afternoon shopping, going to a museum or taking in the local culture; cap the evening with a wine-paired dinner for two.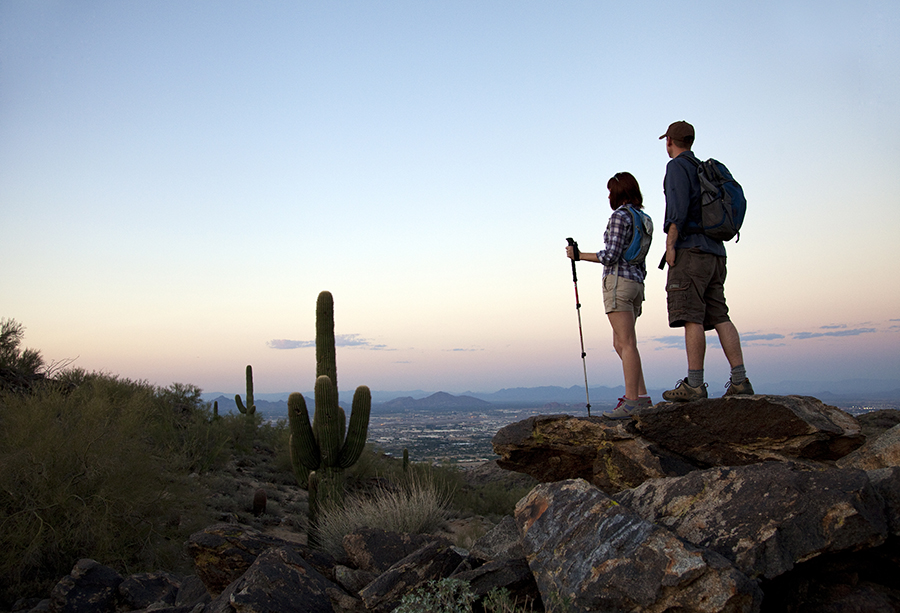 Hiking at South Mountain Park

What is your favorite experience in Greater Phoenix?
Enjoying the breathtaking views of the Sonoran Desert and sprawling city from a mountaintop or relaxing at a resort.
Tell us your favorite off-the-beaten-path or hidden attraction, restaurant, etc.
Cosanti Studios: Tucked away in Scottsdale is the late Italian architect Paolo Soleri's gallery, studio and private residence. You can see how his famous bronze bells are made and listen to their beautiful sounds.
Another great find is Fashion by Robert Black. Fashion icon Robert Black, former owner of Ford Robert Black Agency, and philanthropist and fashionista Doreen Picerne opened a boutique with one-of-a-kind vintage couture pieces from private collections worldwide.
Tell us about The Hermosa Inn:
The Hermosa Inn is the epitome of desert luxury. A hideaway set amidst a private neighborhood in Paradise Valley, you'd never know that a bustling city surrounds these six acres of serene desert. Owners Fred and Jennifer Unger and Art Cunningham have done a wonderful job of preserving the original structure, which was built by cowboy artist Alonzo "Lon" Megargee as his home and art studio in the 1930s — and those artful traditions are a big part of the resort to this day.
Do you have any fun facts about The Hermosa Inn?
The original structure, built by cowboy artist Alonzo "Lon" Megargee in the '30s as his art studio and residence, still stands. The original adobe walls still show through in various parts of LON's and Last Drop.
The ghost of Lon Megargee is said to still be roaming the property, along with other "guests" of times past.
We have one of the largest collections in the nation of Megargee's work, which adorns the walls of the resort and restaurant.
When building the underground wine cellar the owners found hidden tunnels originally created by Megargee. He and his buddies used these tunnels to escape to the mountainside when the sheriff came by unannounced during nights of drinking and gambling.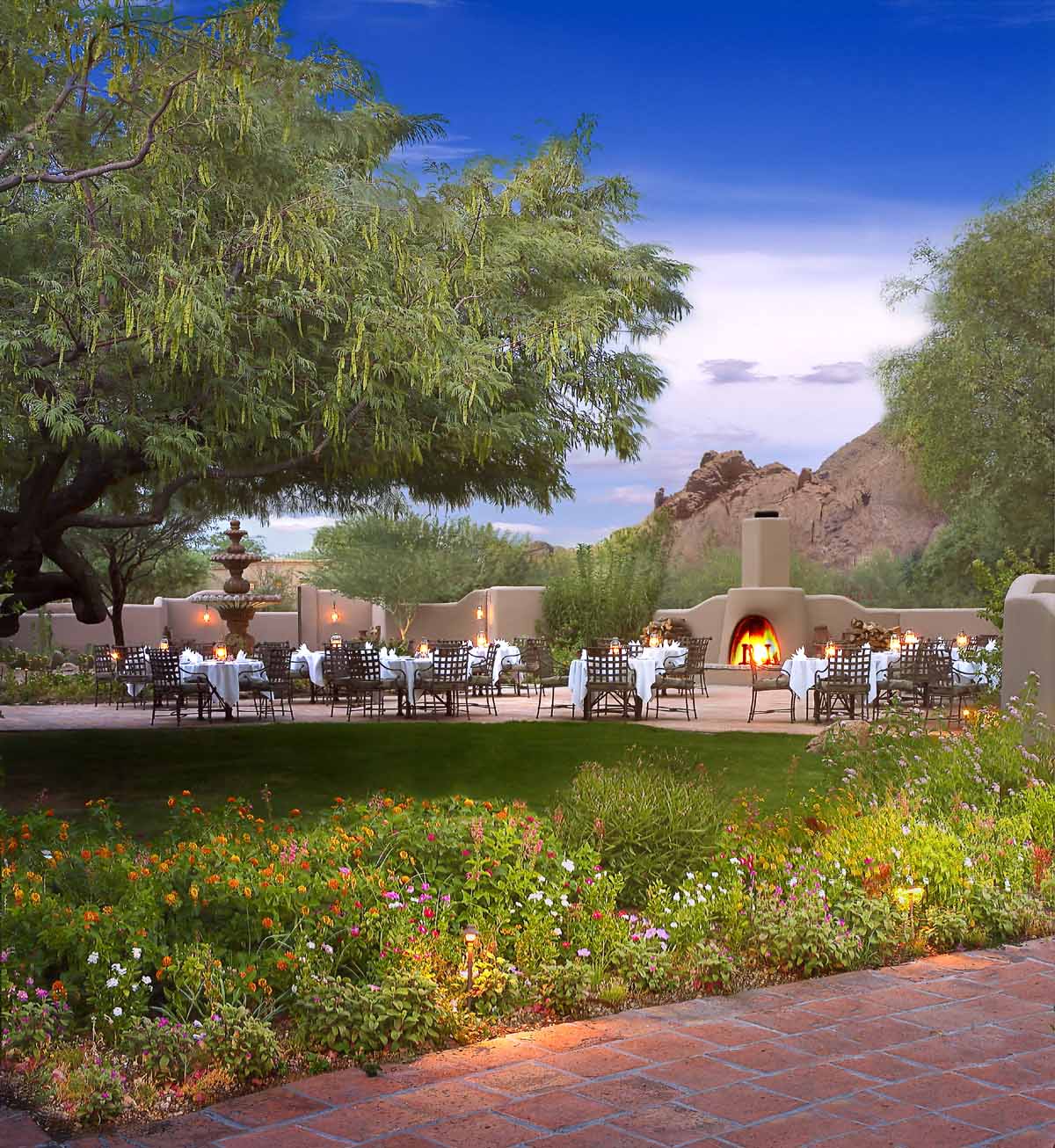 LON's at The Hermosa

Any other advice for visitors to Phoenix?
Guests should always carry water and sunscreen with them wherever they go. And, if you have the time, take a ride on the Pink Jeep Valley of the Sun Adventure; this is a new offering from Pink Jeep Tours (edit: tour  no longer offered) that takes guests through the historic district, Old Town Scottsdale, and to Desert Botanical Garden and other interesting spots.