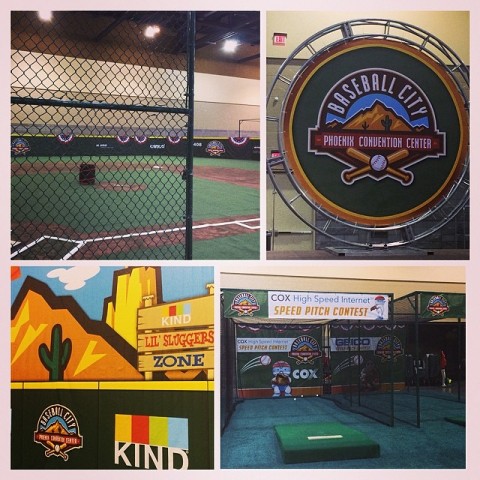 As the Wall Street Journal declared this week, Phoenix is "the epicenter of baseball in March." As if all the Cactus League action wasn't enough, fans of America's pastime can revel in this weekend's Baseball City experience.
Adults and little leaguers alike can live out their big league fantasies with activities such as speed pitch competitions, a home run derby field, and a lil' sluggers field for the tykes. The newest baseball products and gear from companies such as Lids and Zinger Bat Company will be on display, and the MLB Network will broadcasting their signature radio show, MLB Tonight, live on site.
The experience will also allow fans to meet stars of the diamond from the past and present. Fan favorites such as Aaron Hill of the Diamondbacks, Pablo "Kung Fu Panda" Sandoval of the Giants, and slugger Adam Dunn of the White Sox are just a few of the All-Stars that will be on hand. Fans also won't want to miss the chance to meet Hall of Famers Gaylord Perry, Ferguson Jenkins, Orlando Cepeda and Andre "The Hawk" Dawson.
Baseball City will be at downtown's Phoenix Convention Center from 9 a.m. – 8 p.m. Saturday and Sunday, so there's time to enjoy the festivities either before or after soaking in the sun at a Cactus League game.