UPDATE: Bonjour Vietnam has closed.
A co-worker and I have a thing for Pho. It's our comfort food, so we were pretty bummed when Viet Kitchen closed it's downtown location. Recently, a new place to get our Pho fix opened just down the street from our offices, so we decided to give it a try.
Bonjour Vietnam is from the team that runs Rice Paper in Central Phoenix. The Bonjour Vietnam menu consists of Vietnamese favorites; spring rolls, Pho, Bun, Bahn Mi and a few dish variations to cater to the downtown lunch crowd.
The day we went my co-worker ordered the Pho Tai and a Vietnamese coffee.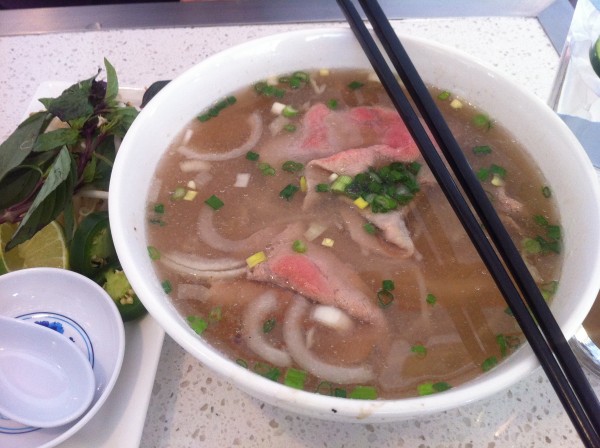 I went with one of their lunch specials, the vegetable bento box that came with crispy spring rolls, stir-fried vegetables, rice and a salad.
My co-worker enjoyed the Pho and especially enjoyed her coffee. My bento box was the perfect size for lunch and didn't leave me in a food coma upon returning to my desk.
I'll be back for my bowl of Pho soon.
Bonjour Vietnam is located inside the Hotel San Carlos at 202 N. Central Avenue in downtown Phoenix.