With Oktoberfest right around the corner, it seemed appropriate to try the new Brat Haus in Old Town Scottsdale before the brat and beer hungry crowds took over. The menu at Brat Haus is all about local, artisan, and carefully crafted food and drinks. Expect to find traditional items like bratwurst, fries and pretzels – but if you are out to try something exotic, you'll find that at Brat Haus too (read rattlesnake and rabbit sausage).
On this visit to Brat Haus we started with the Fundido — two pretzels served with warm three-cheese-beer dipping sauce and whole grain mustard. For dinner we decided on a traditional beer bratwurst which came with two house made pickle slices (which were the highlight for me), a side of Belgian fries with Siracha dipping sauce and a beet salad. We were too stuffed to try dessert, but saw several come out of the kitchen and they looked (and smelled) amazing.
We sat inside the small dining area in the "brat haus," but there is ample outdoor seating which will be fantastic for Oktoberfest celebrations and a small bar seating area in the "bru haus" as well.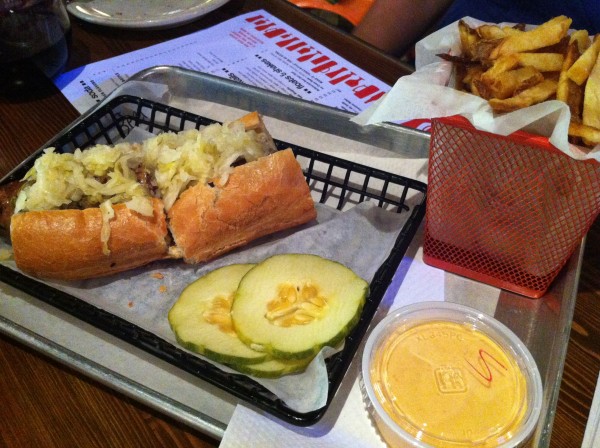 Brat Haus is located in Old Town Scottsdale at 3622 N. Scottsdale Road.