Forage for craft beer and hearty fare at Arizona Wilderness Brewing Co in Gilbert, a brewery that boasts RateBeer.com's "Top New Brewer in the World" title for 2014.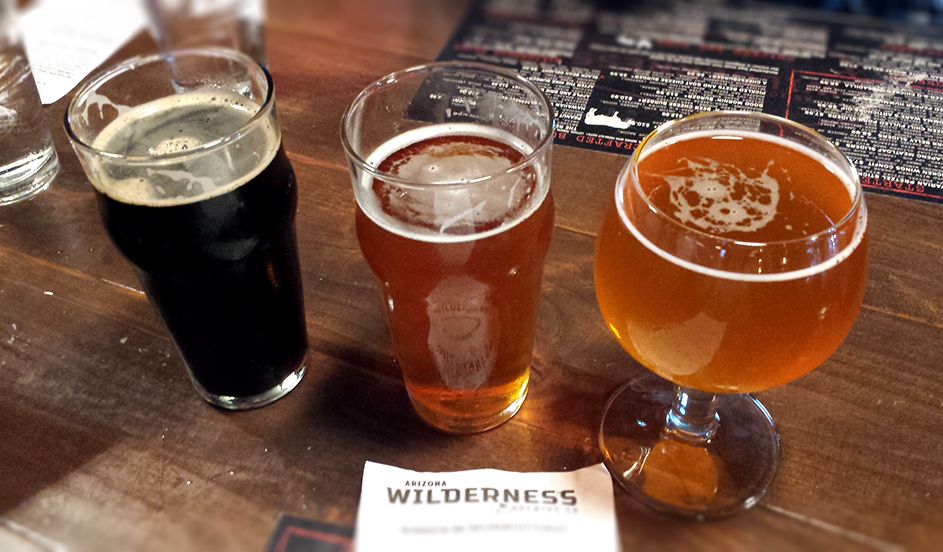 As an amateur foodie and beer enthusiast, it's my mission to explore the hops and hospitality of Phoenix's breweries. In my most recent adventure into the local beer scene, I went foraging for craft beer and fare at Arizona Wilderness Brewing Co in Gilbert.
Note: Arizona Wilderness Brewing Co. has since expanded to a second location in downtown Phoenix's Roosevelt Row. 
This East Valley brewery destination is scooped out among strip malls, sporting a defunct drive-through window from previous shared occupancy with a bagel shop. But the location and modest interior are the only inconspicuous elements of a young brewery that boasts RateBeer.com's "Top New Brewer in the World" title for 2014. After dinner and drinks in the wilderness, I understood its claim to fame.
My selection from the ten tap list offerings, a Belgian pale ale dubbed De Kofa, was a sweet and malty brew with a light, orange-caramel color. I intended to leave this masterpiece only briefly when I sampled my husband's beer. But he had the Refuge IPA, and wasn't about to give it up so soon. This hoppy West Coast ale flung me through the pines to an earthy, aromatic memory of my old Pacific Northwest home. Each sip was a swirl of wholly flavorful melon, hops, and crisp pine forest air. As the drink was wrested back from me by its owner, I knew I had found a contender for my favorite craft beer.
The food menu at Arizona Wilderness is delightfully and shamelessly hearty. A thick-cut bacon topping complements most of the roundup of burgers, chicken, and pork dishes. My group of food hunters started our culinary exploration with two baskets of Wilderness Fries, laden with combinations of gooey beer cheese, bacon, and soft pulled pork. The meaty brisket blend burgers – featuring tastes like apple and brie, fried pork belly, and over-medium egg – arrived with generous proportions to outsize the human mouth. My own treat was the peanut butter and jalapeno jelly burger. The salty, creamy butter warms from the heat of the patty, oozing over bacon and bun, and mingles with sweet and spicy jelly. If you haven't tried peanut butter on a burger, let Arizona Wilderness show you what it's about.
We packed out of the wilderness full and happy. Arizona Wilderness Brewing Co.'s tap list ends its description of the Refuge IPA with a nod to its moniker – "Let this be your refuge of taste!" I'd be happy to find refuge again in what's been rated the best beer on earth.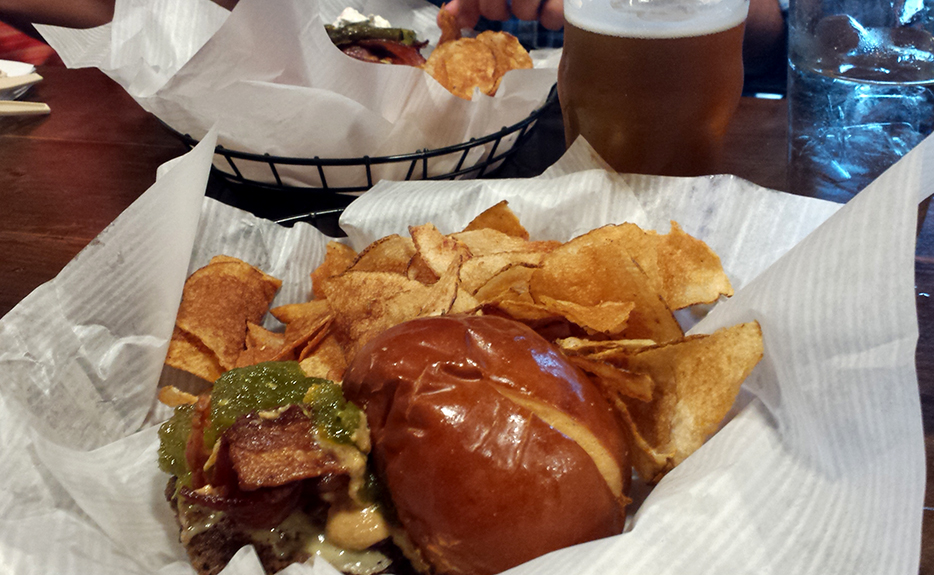 Arizona Wilderness Brewing Co.
721 N Arizona Ave, Gilbert 85233
480-284-9863