From classic ales to spicy tortilla plates, savor a memorable menu stacked with Southwest flair and flavors at Helio Basin Brewing Co.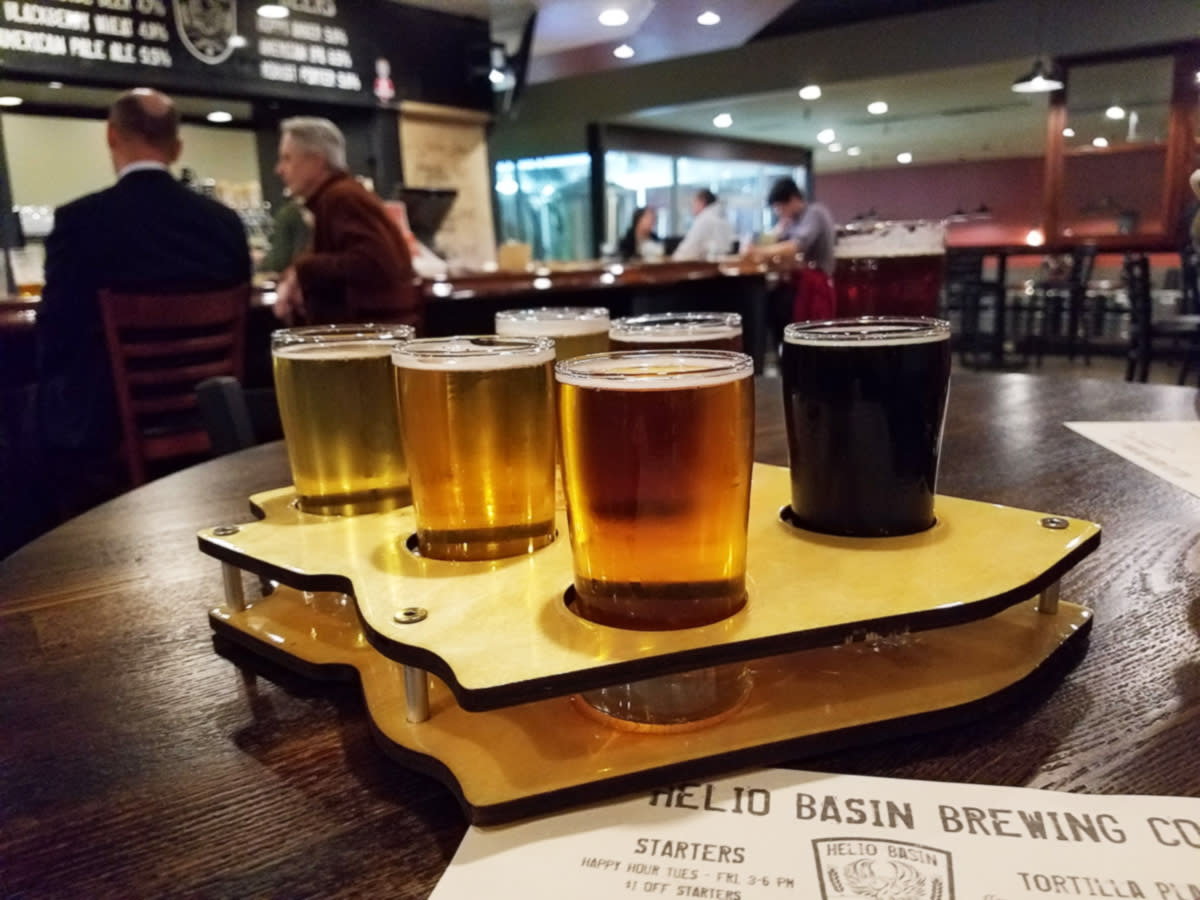 As an amateur foodie and beer enthusiast, it's my mission to explore the hops and hospitality of Phoenix's breweries. In my most recent adventure into the local beer scene, I savored a memorable menu stacked with Southwest flair and flavors at Helio Basin Brewing Co.
I'll start with a recommendation: Treat a trip to Helio Basin like you've made a reservation for a low-key three-course meal, complete with craft beer pairings. Grab a friend. Settle in. Take your time. Try everything – from core beers to starters to tortillas, and cram in a dessert or ice cream flight if you can. Because you will want to sample as much of the simple yet lovingly-crafted menu as possible. 
That's not to say you can't just come here for a beer. Helio Basin Brewing Co graduated to the Beer Advocate Class of 2016's 34 Best New Breweries in the US, so they know their way around an ale. The owners operate a small-scale brewhouse within an expansive community-friendly space, offering a lineup of six core beers plus rotating seasonals. A flight of the six regulars comes in a photogenic wooden tray in the shape of the state with Helio Basin's fiery Phoenix logo emblazoned on the middle. The beers zigzagged from light to dark – a crisp, light-bodied House Beer; tart Blackberry Wheat that wasn't too sweet; a palatable American Pale Ale with a very distinct hoppy kick. And then there was the Hoppy Amber, a true-to-its-name brew that combined what I love about caramel ambers and more bitter ales; a classic American IPA, dry and bursting with pine; and finally my favorite, the Robust Porter. Its all-season appeal is in a smooth balance of malts and mastery of dark, roasted flavors without being too filling.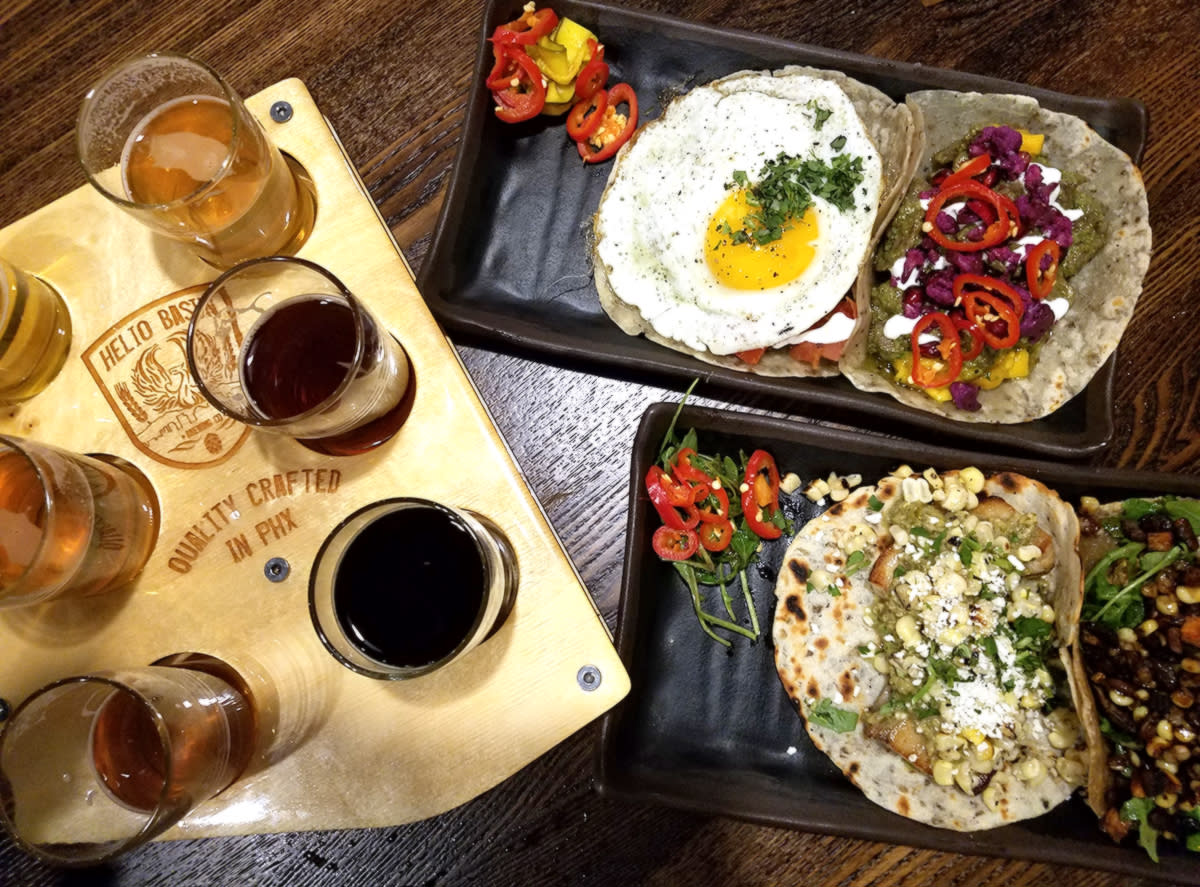 Tucked between all these brews were plates of unforgettable food. The list of ingredients in Helio's starters and tortilla dishes is sumptuous and mysterious, and reads, to my unsophisticated palate, like a five-star culinary affair: Marinated meat with achiote and jalapeno pesto. White tepary bean puree with whipped milk curd and roasted pepita. Saffron chili dolloped with crema agria and garnished with cucumber habanero. It's a new realm from standard pub grub, and it works well. I opted for seared banana cornbread with cracked pepper honey butter, a dish so decadent that I fought over my partner's halving abilities to make sure I got my fair share. Our server came to set expectations for the tortilla plates – they would resemble more of an open-face taco than a rolled tortilla – and I pleaded, only half-jokingly, if I could get a "flight" to try them all in the same way as the beer. After serious debate, I tried four of eight options: Soft beer beef with sweet pickled hibiscus, Inca corn and pomegranate in the war bonnet carnitas; nutty pistachio and pine nut mole with fatty beer-braised pork belly; spicy house chorizo topped with a sunny side up egg and sweet roasted tomato; and my favorite, a roasted Oodham tepary bean blend with sweet potato, mushroom and hummus. The tortilla texture felt like a flaky crepe, and could be pinched together to eat taco-style or sliced up with fork and knife. I know I told you to get dessert, but I didn't have the room. Next time I'm coming for the beer and ice cream flight, boasting flavors like Mexican lime and pumpkin candied ginger and pecan.
On a Thursday night, a crowd trickled in to listen to a live singer, chat at the bar or share space on long tables. The corner was stocked with games; a man relaxed with a novel. Comfortable and inviting, the brewery has staked its claim on the edge of the Arcadia neighborhood in a spot Helio's website explains was "just waiting to be brought back to life." The sentiment resonates with our city's mythological symbolism. I'd like to think the brewery's own name is a tribute to our moniker, "Valley of the Sun." Quality draws community, and between the welcoming space and true passion behind its products, Helio Basin Brewing Co offers a craft of food and drink worth coming back for.
Helio Basin Brewing Co.
3935 E Thomas Rd, Phoenix 85018
(602) 354-3525