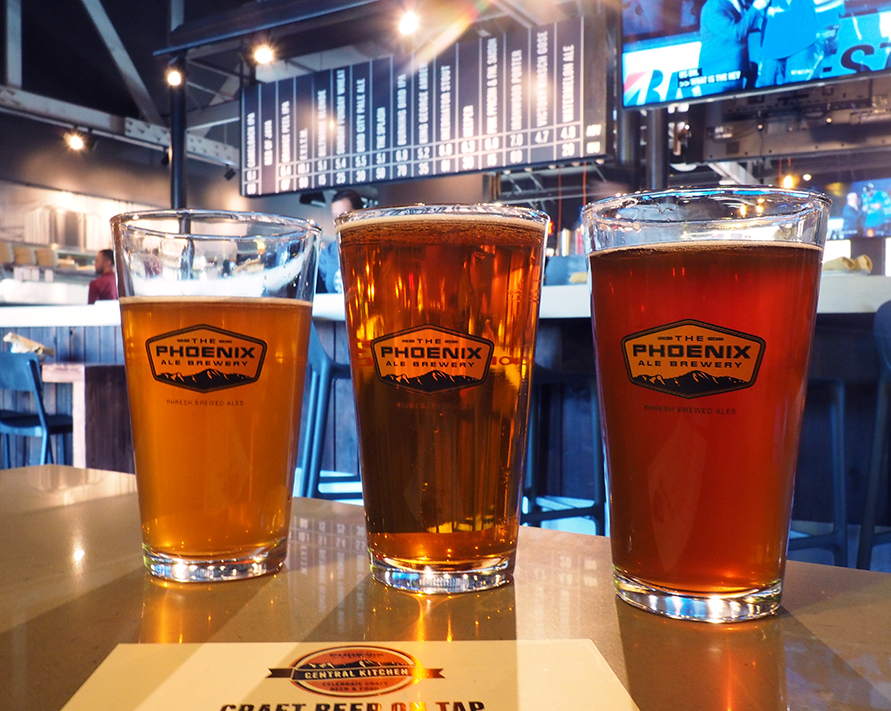 As an amateur foodie and beer enthusiast, it's my mission to explore the hops and hospitality of Phoenix's breweries. In my most recent adventure into the local beer scene, I got acquainted with the new kitchen and locale of Phoenix Ale Brewery.
Central Phoenix harbors its share of quintessential dining. Cruise up 7th Street alone and you'll hit everything from outstanding vegan, tacos and Southern fare to a trendy backyard venue stuffed with seafood and Mexican. Enter Central Kitchen, a recent (as of May 2016) opening that marries the beers of Phoenix Ale Brewery with new gastropub fixings. A visit confirmed it seems to be settling in nicely in CenPho.
Swing around the back of the establishment to enter a cool, clean dining room with an airy central bar. Lights and wood accents dangle from an industrial ceiling, and glass windows showcase tanks as well as the courtyard of the Crown, the infill the kitchen shares with its neighbors. Three menus are proffered at arrival: Guest taps, featured Phoenix Ale Brewery picks and a food menu packed with so many ale-infused ingredients that it might have been a tap list at first blush. It's an overstatement—but every main entree incorporates something pickled, brined or battered with the brewery's craft lineup.
I enjoyed a full brew and sips from a shared flight that left me with a major takeaway: Get another Watermelon Ale. The brewery knows its way around fruit flavors, as I learned from my lightly sweet and citrus-y Orange Peel IPA; its watermelon wheat beer was especially refreshing in its subtlety, and so natural I might have expected to spit out seeds. If you'd prefer to avoid the sweeter stuff, the Camelback IPA is a reliably hoppy, classic choice.
Remember that beer-infused food menu? The clever chef got not one, but two brews in my bison burger: a heavy spread of King George Amber BBQ sauce, and mushrooms braised in Biltmore Blonde. Sprinkle in goat cheese and spicy chipotle, and I had a mouthful of hearty flavors to savor. The cod and chips were also delicious (and, yes, battered in beer).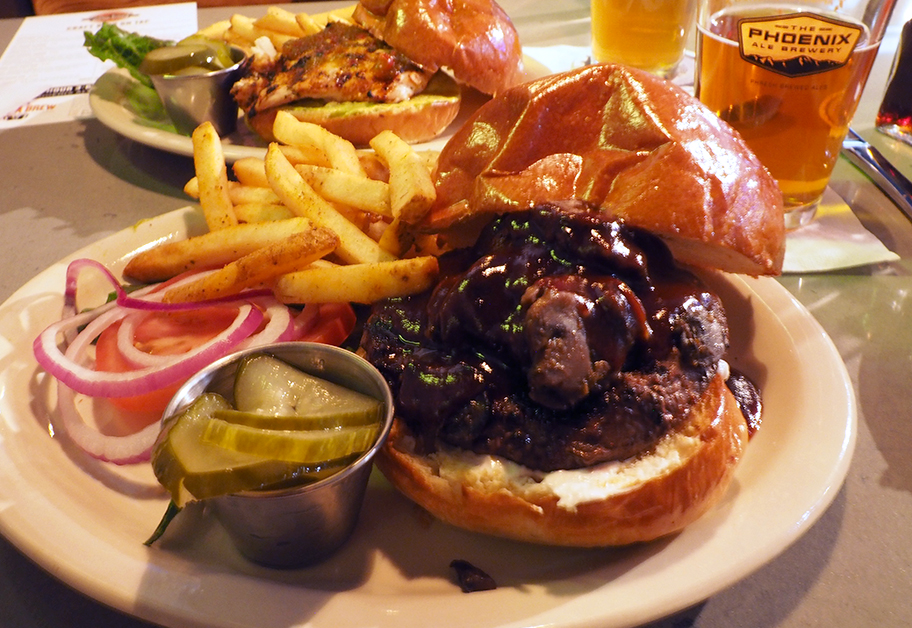 My regret was neglecting to order a Black Iron Pizza, a signature thin crust dish served square out of an iron pan. But it's safe to suppose that Phoenix Ale Brewery's new kitchen will be firing it up on my next visit to its place among culinary stars of Central Phoenix.
Phoenix Ale Brewery Central Kitchen
5813 N 7th St, Phoenix 85014
602-313-8713