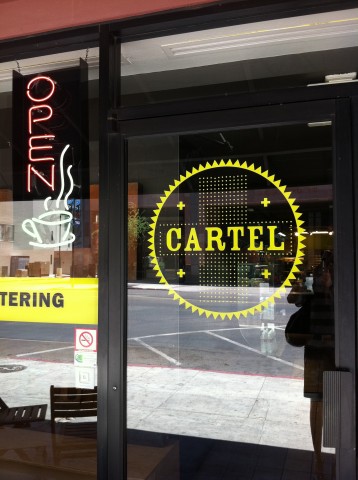 "This will be the most epic veggie sandwich you have ever had."
This is what the chef at Cartel Coffee Lab said to me as he handed me my order. It seemed like a bold claim. I had watched him roast the veggies and carefully construct my sandwich while I stood in the tiny coffee shop waiting for my order. It sure smelled good. When I got back into my office, I bit into my sandwich. Yep, epic. It had a variety of roasted veggies; zucchini, yellow squash, tomato, potato and cheese. The fresh fruit was a nice accompaniment. Normally a fruit side means a standard melon mix with maybe a grape or two, but fresh apples and strawberries came with my sandwich from Cartel. A refreshing change.
Cartel Coffee Lab has two locations in Phoenix. One is located downtown, walkable from most downtown hotels and the Phoenix Convention Center. The other is located in Tempe. The downtown location (which is where I visited for this blog post) is currently expanding in the space next door and will eventually serve a larger breakfast and lunch menu. For now they do serve a few breakfast items, lunch and coffee, of course. If you stop in after 12:30 all of their baked goods are 50% off, sweet!
Cartel Coffee Lab in downtown Phoenix is located at 1 N. 1st Street.