While you may not be able to skip town and revel on Bourbon Street next Tuesday, there are still plenty of  things to do for Mardi Gras in Phoenix.
Though Saturday's Downtown Phoenix Mardi Gras Parade and Festival has been cancelled due to impending rain, there will still be plenty of parties throughout downtown that day. Check out the map below for details: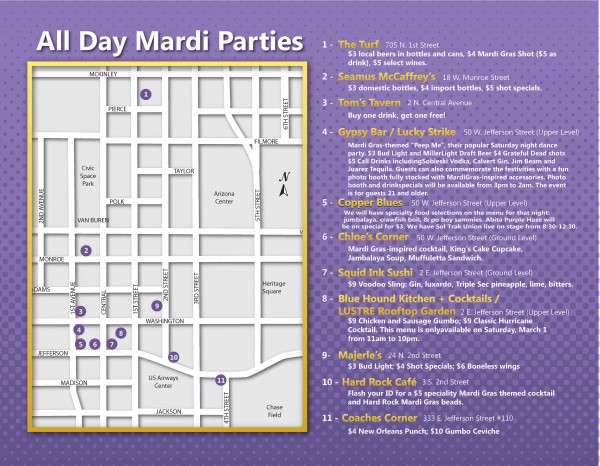 Get your Cajun kick at restaurants such as Flavors of Louisiana, Baby Kay's Cajun Kitchen, Fat Tuesday, and Pappadeaux Seafood Kitchen, who will be serving a King Cake cheesecake through March 4. For some sweet Louisiana treats, head to New Orleans SNO BALL.
Or take the party home with a King Cake, the classic Mardi Gras staple. Pick yours up at French Grocery, Merci French Cafe and Pastisserie, and Barb's Bakery.
Laissez les bon temps roulez!