The popular Phoenix chef shares his four favorite breakfast spots to rise and shine at.
By Sally Clasen and Mark Lipczynski for BITE Magazine
Breakfast—or the lack thereof—is one of those meals that causes a continental divide in America. Some prefer a traditional plate full of piping hot carbs and proteins in the form of eggs and potatoes, while others keep it simple with a bowl of cereal or a bagel with cream cheese to help them start the day.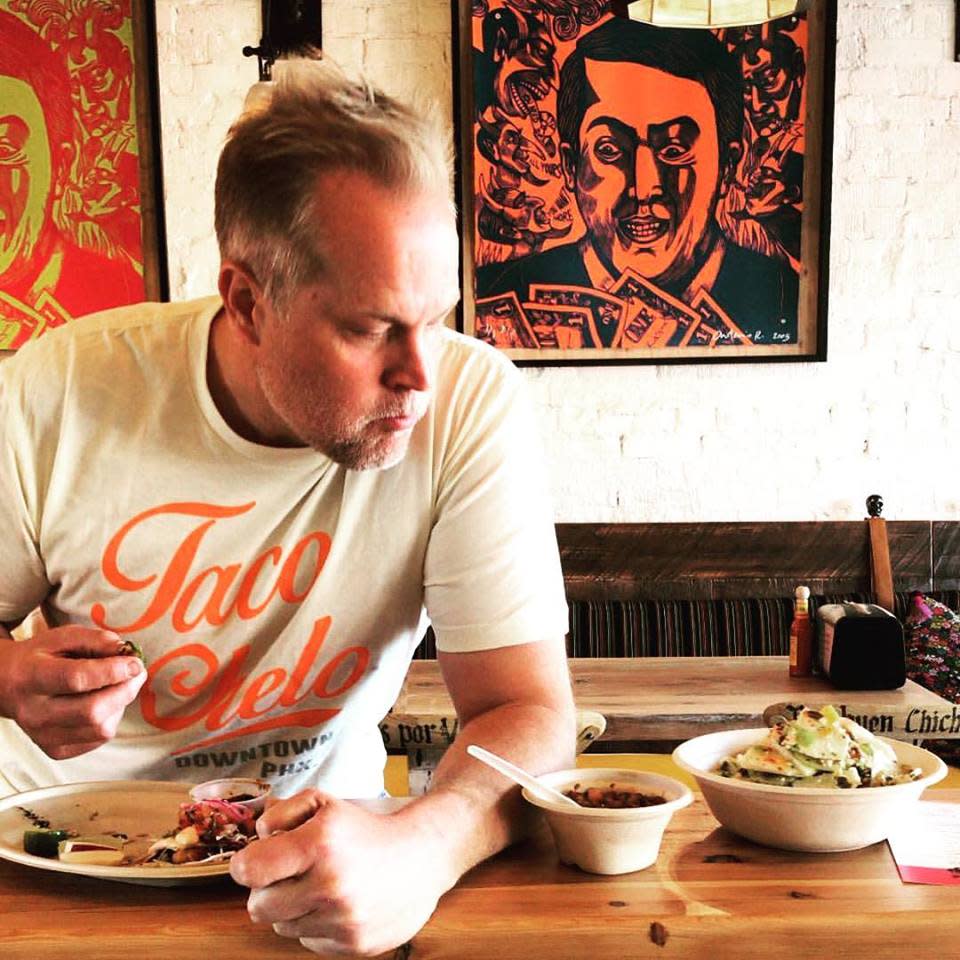 Chef/restaurateur Aaron Chamberlin—owner of Taco Chelo—is eating lighter and healthier these days in terms of his breakfast food of choice, scrambling up smoothies or vegetables at his own establishments to satisfy his first meal of the day.
If he is out and about, though, here are a few of his favorite, go-to brekkie spots in the Valley:

"By far, the best breakfast in Arizona," says Chamberlin of the Crepe Bar, a former food truck food operation that officially parked itself in Tempe in 2012. 
The seasonal menu items are sourced using the freshest local ingredients and include toast, brioche, potatoes and other usual breakfast fixings. But it's the playful spin on crepes—savory, sweet, vegetable and vegan—made with things like pork belly, Hassayampa ham  and Sonoran blossom honey glazed figs that are the main breakfast draw.
"When we were building Tempe Public Market Café, I would go to the Crepe Bar every morning," says Chamberlin. "They do the most fantastic, detailed-oriented breakfast you'll ever have."
7520 S. Rural Road, Tempe
(480) 247-8012
La Grande Orange Grocery & Pizzeria

The unique market, bistro, gift store and pizzeria in Arcadia serves food all day long, but it's the breakfast line, which is typically out the door, that sets the dining tone among the morning crowd at this neighborhood spot. Parisian cheesy eggs, French pancakes and housemade granola with fruit and yogurt are just a few of the selections, including a few standard items that have been on Chamberlin's must-have list for more than a decade.
"If I do eat a traditional breakfast, I'll stop here. They have the Commuter Sandwich and a Croque Madame that I really like," he says.
4410 N. 40th St., Phoenix
(602) 840-7777

Matt's might have outgrown its original downtown location, a cozy, 800-square-foot brick building on First Street in downtown that was immediately recognized by the long line of people waiting to get in on any given morning. Fortunately, this iconic Phoenix spot has grown to four locations—all serving up the unapologetic hearty, all-American style breakfast it's known for.
Catering to purists who want traditional grub made with farm-fresh ingredients, the menu is a breakfast lover's dream. Think real butter, cage-free eggs and a menu that includes The Chop and Chick made with two eggs and a skillet-seared Iowa pork rib chop served with toast and potatoes. 
Matt's is not for the breakfast faint of heart, so it's not surprise when Chamberlin wants to splurge, he goes big and heads to Matt's (now with four locations).
825 N. First St., Phoenix
(602) 254-1074
3118 E. Camelback Road, Phoenix
(602) 840-3450
400 E. Rio Salado Parkway, Tempe 
(480) 967-5156

Phoenix Sky Harbor Airport, Terminal 4

Chamberlin calls Ollie Vaughn's, located in the historic Coronado neighborhood in Central Phoenix, an "out of the ordinary" breakfast stop because of it scratch cooking and use of high-quality ingredients. 
Serving breakfast all day, the café and bakery also sells espresso, sandwiches, soups, salads, quiche, pies and baked goods. Chamberlin is particularly fond of the biscuits and gravy, made with Southern buttermilk biscuits and country pork sausage gravy. If that's not your breakfast jam, consider the ricotta pancakes or the avocado toast.
1526 E. McDowell Road, Phoenix
(602) 254-1392