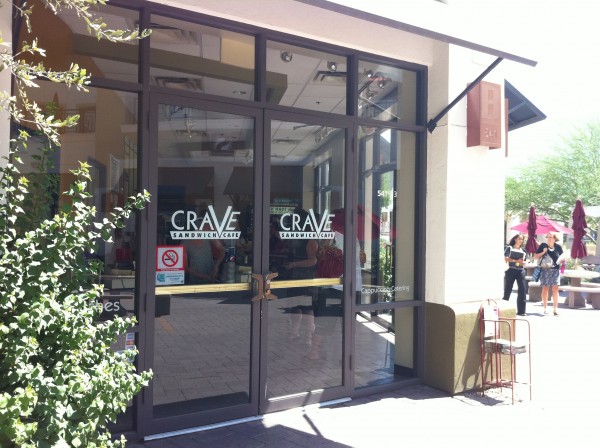 Tired of the same old turkey sandwich? Crave Sandwich Café, located in the ASU Mercado has the cure. From Turkey Cranberry to the Turkey New Mex made with green chiles, provolone, lettuce and chipotle mayo, the sandwiches from Crave will rescue your boring lunch.
A co-worker and I walked over to Crave last week for lunch. The shop is small, but has plenty of options on the menu — I even noticed that they have quite the vegetarian sandwich selection. Your sandwich comes with Lays potato chips, which you can sub out for Sun Chips for $1. You can also purchase fountain or bottled drinks, and a variety of snacks, fruit and baked goods.
I went with the Turkey Brie which includes turkey breast, brie, lettuce, tomato and honey mustard on a soft baguette. My co-worker got the Ham & Brie. We walked back to our office to eat, but when the weather is nice there are tables in the Mercado courtyard that you can sit and enjoy your lunch.
Crave Sandwich Café is located at 541 East Van Buren Street in the ASU Mercado. You can find more photos from our visit to Crave Sandwich Café Flickr.