Fate Brewing Company brings great craft beer and mouthwatering pizzas to its South Scottsdale neighborhood location.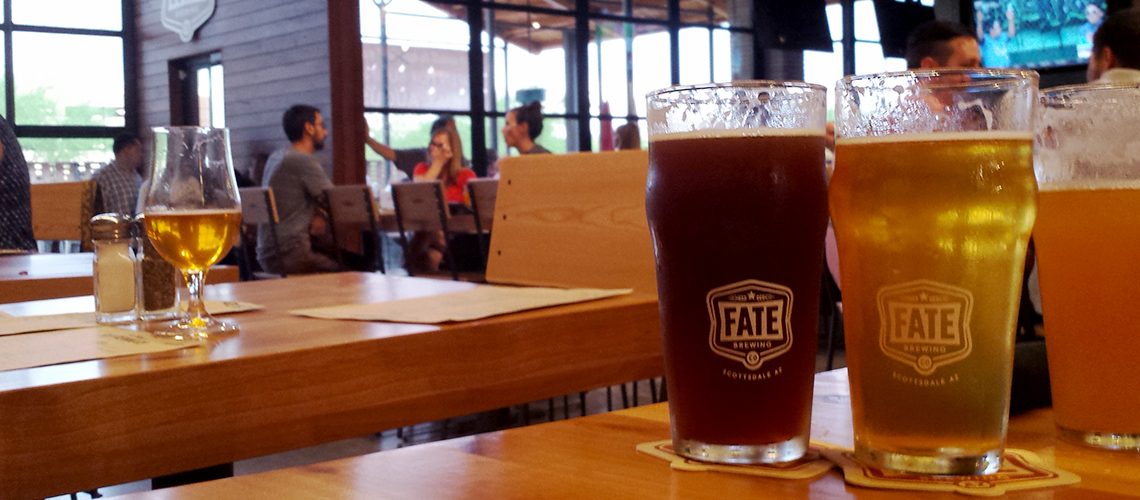 As an amateur foodie and beer enthusiast, it's my mission to explore the hops and hospitality of Phoenix's breweries. In my most recent adventure into the local beer scene, I sipped and savored at a long-awaited new location of Fate Brewing Company in South Scottsdale.
When I learned the popular Fate Brewing Company was expanding to a second location in my neighborhood, I was a little more than excited. My drive home from work shifted so I could prowl by the remodeling and gauge its progress. I emailed in early summer to ask about a grand opening when news was vague about when exactly I could expect to drink beer there. And when I saw the signs of construction go down and the patio chairs go up, I set my date with Fate.
The brewpub's new southern locale boasts more square footage for dining and beer crafting than their original north Scottsdale location. When I arrived, I was seated centrally between the restaurant's beautiful ceiling-high windows and gleaming tanks standing sentinel in a spacious back room. A wall of tags with neon lettering spelled out the day's brew offerings. My first beer choice jumped out at me from the tap list: an ale punctuated with an exclamation and a little hoppy bitterness. The Oh My Gatos! was light in body and golden color, and a good crisp start. But it was Fate's Irish Red, a hazy pour with a roasted nut flavor, that quickly became the table favorite.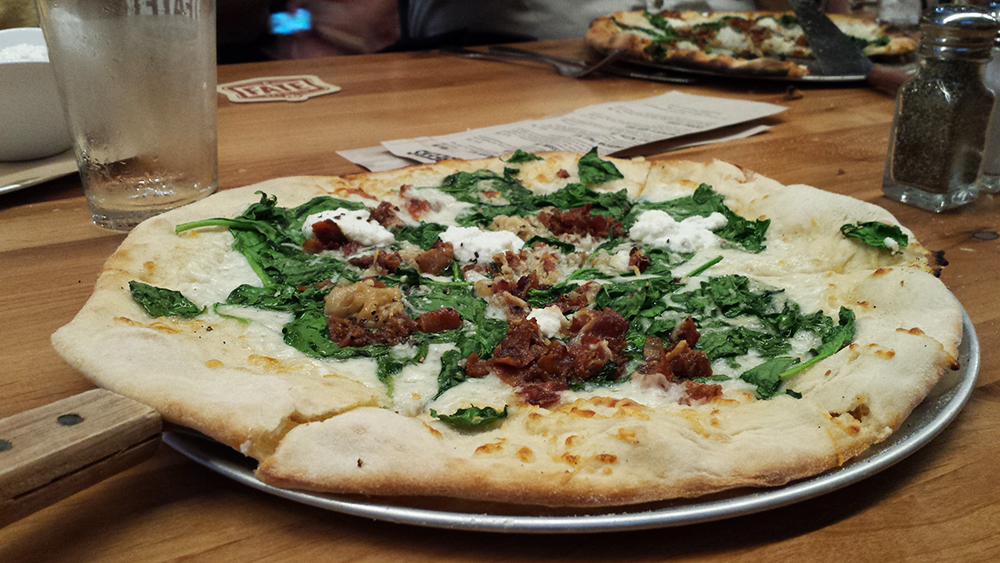 The Fate menu pulls over some pizza favorites from the original location, but swaps in new snacks, burgers and sandwiches to its lineup. I feasted first on a plate of poutine, a small but shareable bundle of neat fries, light gravy and salty bacon. In the interest of experiencing the spirit of the original brewpub, my partner I selected "The Jess" as our entrée—a Fate North pizza fixed up "Fate South style." Slices of restaurant pizza typically return home with me in a take out box. But the irresistible Jess didn't survive. It was a perfect balance of soft crust with a crunchy cracker edge, gobs of fluffy ricotta, bites of dried spinach and crumbly bacon.
My next drive by after work will be to scout out a seat on the outdoor patio, which I left unexplored on my first visit due to rain. If you'll be racing me for a seat, I understand. My new neighborhood pub is worth a drive from anywhere in town.
Fate Brewing Company
1312 N. Scottsdale Road, Scottsdale 85257
480-656-9100