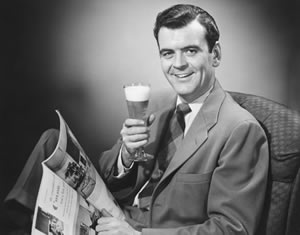 Step away from the ties. This Father's Day treat your old man to a day of fun with his favorite people (you, silly)! Here's a roundup of some fun things going on for Father's Day this weekend in Greater Phoenix.
Father's Day Luncheon at The Radisson Fort McDowell Resort Ahnala Restaurant
Guests can spend this Father's Day with friends and family while enjoying this Fathers Day Luncheon at this premiere restaurant in authentic contemporary Southwestern fare. This Father's Day Luncheon features Jalapeno & Pineapple Slaw, Ribeye Steaks, Beer Cheese Fondue, as well as Root Beer and Cream Soda Floats.
Father's Day BBQ Cookout at Practical Art
Bring Dad to Practical Art for a day of appreciation. They will have all the Dad-esque amenities: grilled-up foodstuffs, brewskies, and a putting tournament. What could be better?
Then, hang out for the Socrates Cafe event at 2pm for a good philosophical discussion to enjoy with your Pops. With all the food and amenities for free, this BBQ cookout will be one Dad will remember.
Father's Day Fun at Pointe Hilton Resorts
The Pointe Hilton Resorts are celebrating Father's Day weekend with several fun and relaxing activities for dads and the whole family. From a pizza party to golf and basketball to well-deserved spa time, the Pointe Hilton Resorts are creating the ideal weekend retreat for dads.
Be a Kid for Father's Day at Arizona Science Center
Come down to the Arizona Science Center for a day of family fun. All fathers and grandfathers are admitted to the museum at the child admission price on Father's Day only.
Take Dad Out to the Ballgame
The Arizona Diamondbacks take on the Chicago White Sox Father's Day weekend. Games are on Friday evening, Saturday, evening and Sunday afternoon. The first 5,000 fans through the gate on Father's Day get a BBQ set.
Father's Day Beer Tour
Take Dad on a local beer tour from Tours on Tap with stops at Four Peaks and San Tan Brewing Company.
Father's Day Clambake at Fred's
This clam bake is overflowing with lobster, shrimp, clams, mussels, sausage and chicken. $26.00 Available all weekend long..
Father's Day at the Phoenix Zoo
Dads are just big kids so why not treat him to a day at the Phoenix Zoo? Dads pay child admission prices all day on Father's Day.
Father's Day Brunch at El Chorro Lodge
Father's Day Brunch Special â–ª 9 a.m. to 3 p.m.
Smoked Brisket Hash Skillet
with two eggs (served to your preference)
Bloody Mary breakfast cocktail
$20++ per person
Father's Day Dinner Special â–ª 5 p.m. to 10 p.m.
Wedge Salad
Grilled Ribeye Steak with cherry tomatoes & roasted fingerling potatoes
Apple Pie ala mode
$29++ per person
Father's Day at Hermosa Inn & LON's
Fathers can all relate to a great BBQ. So give him what he wants with a Father's Day BBQ Celebration at LON's on Saturday, June 18, featuring a chef's selection of barbecued, smoked and grilled meats. Paired with local beer specials from SanTan Brewing Company and Sonoran Brewing Company and music entertainment – what better way to say cheers to dad.The Father's Day BBQ is from 5:00 pm to 8:00 pm and is $59 per person and $19 for kids 12 and under.
Also, treat dads with the Father's Day Package, which includes breakfast for two and Father's Day BBQ Celebration on Saturday; Sunday Brunch; drinks and appetizers for two in Last Drop Bar, and a two-night stay at The Hermosa Inn. Rates start at $239 per night for arrivals on Friday, June 17. Make your reservation now!
Happy Father's Day!