Note: Food Truck Friday has been suspended.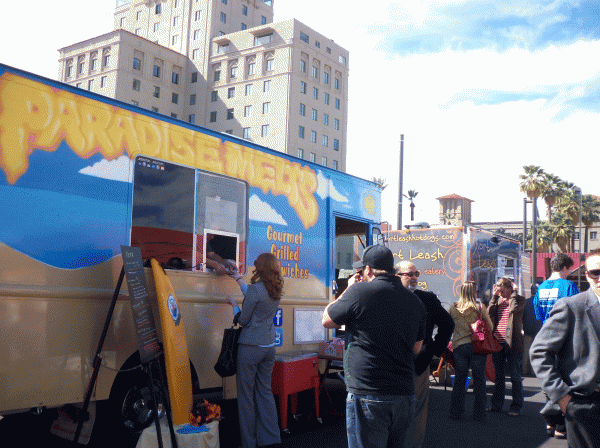 I made the best discovery recently: Food Trucks. And, no, they're not the "roach coaches" you used to see pulling up to a construction site. In Phoenix, these trucks are part of the Phoenix Street Food Coaltion. They set up a mobile food court Fridays from 11am to 1pm right next to the Public Market in downtown Phoenix. Their mantra: "Bringing delicious local food to the streets of Phoenix." Amen to that!
I'll admit, I was a little skeptical at first. I assumed, erroneously so, that food truck food = meat. Well, not so. As a vegetarian, there were plenty of options for me. I went for a good ol' grilled cheese sandwich and also partook of some yummy tater tots (seasoned with rosemary) and fried pickles. Next time, I'll be sure to hit the creme brulee truck, appropriately named the Torched Goodness.
It's definitely worth a visit. The food is fresh, local and delish. They even have picnic tables set up adding to the sense of community which, after all, is really the whole point of street food.
The mobile food court is set up at at the corner of Central and Pierce. You can follow them on Twitter @PHXStreet Food
Check out Flickr for more photos.