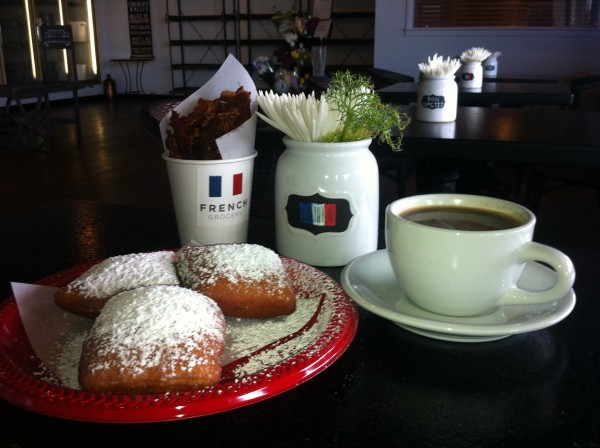 Say bonjour to Phoenix's newest bakery and café, French Grocery. Located in Central Phoenix on the southeast corner of 7th Avenue and Missouri, French Grocery serves delicious French and New Orleans food and baked goods.
I stopped in with my husband during their soft opening to sample some of their beignets that I had already heard so much about and was not disappointed. Made fresh to order, the beignets came out piping hot and were just what I needed on an early Saturday morning. My husband enjoyed an Americano and some of their specialty praline bacon. He said that the Americano was one of the best he's ever had. The very next Saturday I sent my husband back to French Grocery for a baguette, some croissants (which they were out of that day) and more beignets.
French Grocery celebrated their Grand Opening on July 9th and now offers an expanded pastry menu along with a rotating selection of Southern specialty and French classic dinners to go like gumbo, jambalaya, coq au vin. The market side of French Grocery carries items you can pick up to take home like cheese, coffee, and European style butter.
French Grocery is located at 5345 N. 7th Avenue in Phoenix.