This Halloween, enjoy these spooky cocktail recipes courtesy of The Mix Up Bar at the Royal Palms Resort & Spa.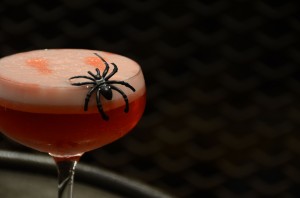 Vampire Bite
1-1/2 oz. Haymans Old Tom Gin
½ oz. Campari
½ oz. Lemon Juice
1 oz. Raspberry Syrup
1 Egg White
Peychauds Bitters
Lemon peel
Combine all ingredients except bitters and lemon peel in a mixing glass, fill with ice and shake vigorously. Strain into a chilled Coupe Glass. Express lemon peel over top of the drink and discard. Next, add a few drops of Peychauds in 2 places on top, use a pick to make them look like fangs.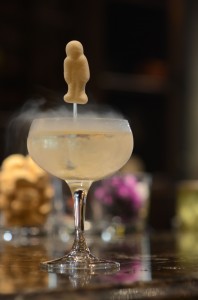 Vesper the Mansion Ghost
2 oz. G Vine Gin
1 oz. Aylesbury Duck Vodka
¾ oz. Lillet Blanc
Combine ingredients in a mixing glass with ice and stir for 20 seconds. Strain into chilled coupe glass and add a chip of dry ice.
Express lemon peel over top.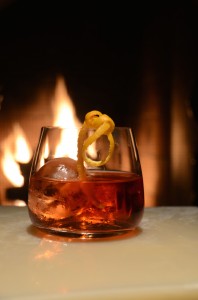 Hangman's Hooch
1 oz. Reposado Tequila
1 oz. Sweet Vermouth
1 oz. Campari
Combine ingredients in mixing glass with ice, stir for 20 seconds, strain over large ice cube. Orange twist for garnish.
Corpse Reviver #2
1 oz. Tanqueray Ten Gin
1 oz. Littet
1 oz. Cointreau
1 oz. Lemon Juice
Rinse chilled coupe glass with absinthe.
Combine ingredients, shake and strain into coupe glass. Express lemon peel and float Zombie gummy on top.
Pumpkin Punch
1 oz. Kraken Rum
1 ½ oz. Pumpkin mix
1 oz. Red wine
Combine ingredients, shake and strain over ice in rocks glass. Add a chip of dry ice for smoke effect, do not drink until ice has dissolved.
Pumpkin mix- 1 part pumpkin puree, 1 part fresh lemon juice, 2 parts simple syrup, 2 dashes of pumpkin spice for every oz. of pumpkin puree. Put all ingredients into blender and puree.