Our media relations intern Andrea attended this year's Heard Museum Guild Indian Fair and Market . She offered to provide her insider's perspective of this popular Phoenix event.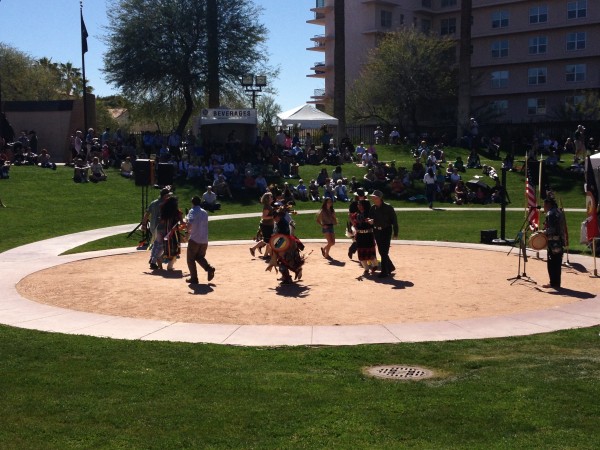 I had the chance to experience the annual Heard Museum Guild Indian Fair and Market this past weekend in Phoenix. Having been there before, I knew that it was going to be awesome.
This event is Arizona's largest Indian market, and if you want to experience everything relating to the culture, it's the best place to do it. The market has over 700 of the nation's best American Indian artists, artist demonstrations, music and dance performances and amazing Indian fry bread.
On Saturday morning, I ventured to the museum via the Metro Light Rail, which stops right in front of the fair entrance. When I went last year, the line to the fry bread stand was so long in the afternoon that it took almost 45 minutes before I got my hands on some (which isn't surprising, it's absolutely delicious). This year, I knew better. As soon as I went through the ticket line, I headed straight towards the good stuff. Indian fry bread is so good that it can be eaten plain. I prefer it sweet though so I ordered mine with powdered sugar and honey. It was amazing!
After satisfying my carb cravings, I headed to the tents. The parking lot of the museum housed multiple tents with artists inside. Items included everything from jewelry and pottery to weavings and paintings. The artists are all so incredibly talented and take pride in their work. And it's also cool to see what tribe the Indians come from.  A few that I remembered were Navajo, Hopi and Santo Domingo.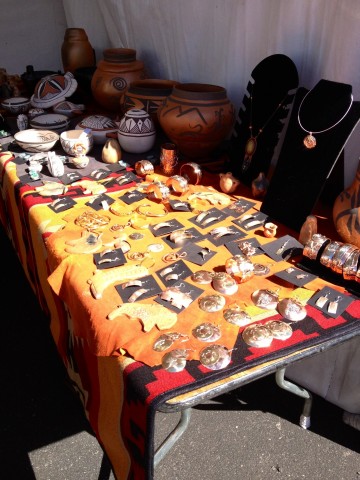 During the day, the fair has music and dancing performances. I had the pleasure of watching Navajo dancers show the audience some traditional dances while live music was playing in the background. Some spectators even joined in to learn the dance.
One of the great things about the annual fair is the fact that your ticket gets you into the Heard Museum for free. Visitors are able to experience all 10 exhibits inside and learn more about Indian culture and history, and can even have a tour guide show them around.
This was the museum's 55th Indian fair, and it continues to get better every year. Be sure to check it out next year – you won't regret it! With American Indian food, shopping, music, dancing and entrance to the museum, you're bound to be entertained!