I should really call this post, "Hiking, Biking, Walking, Horseback Riding Phoenix Mountain Preserve." On the "Dreamy Draw," there are acres and acres of desert au naturel, with trails winding through boulders, saguaros, all under the great open sky.  There are numerous starting points, and starting on one trail opens up many more to you.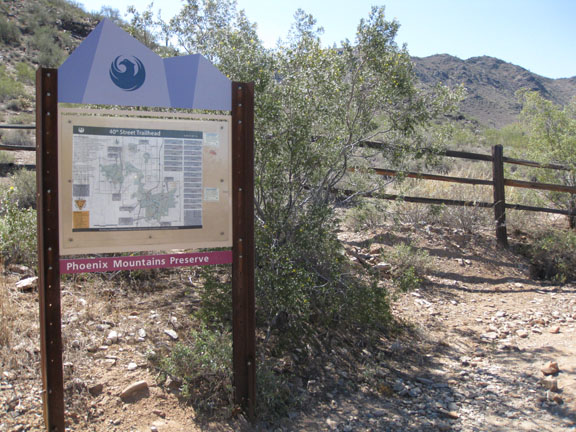 Some days I take my dogs on a trail walk (occasionally break into a run), some days I bike, but mostly, I hike. I see that peak and I head straight up, which is just north of Piestawa Peak (formerly Squaw Peak). It's literally a stone's throw away. 
On the way up, though, the feeling of the open desert is all encompassing. With all the trails and space, it's never crowded, even in the middle of Phoenix. The palo verde trees, barrel cacti, cresotes, all look absolutely untouched beside the trails. 
My favorite way to enter Phoenix Mountain Preserve is go to 40th Street and Shea Boulevard, head south on 40th Street until it ends, park and head on up. You'll cross Trail 100, which is what a lot of mountain bikers, trail runners, and horseback riders use. I go straight and head for the peak, which is pretty easy to see. (Okay, so the peak might not look huge there – but it's not small!)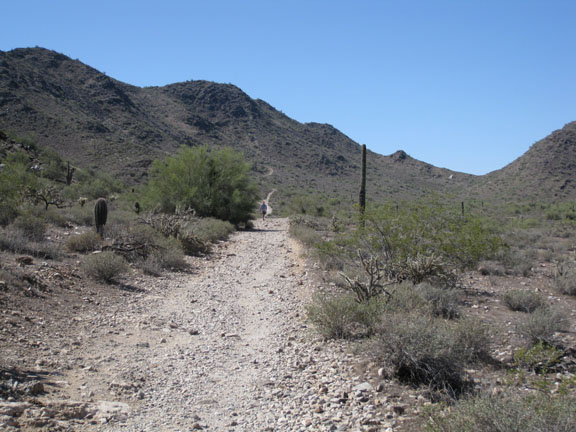 At a moderate pace it will take about 30-40 min to get to the top of the mountain, so it's a quick way to get your heart rate up! It's so worth  it – the views from the top are some of the best in the city!
And when you go, say hello to my friends, for whom I still trying to think of a name. They look like brothers. Any ideas?
If you'd like to see more photos, check out our hiking set on Flickr.  
For more info on Phoenix Mountain Preserve, see  http://phoenix.gov/parks/hikephx.html