Our communications intern Tayllor recently visited the new Hollywood Costume exhibit at Phoenix Art Museum . She offered to provide her insider's perspective of this exclusive exhibit. Enjoy!
Imagine yourself inches away from Dorothy's ruby red slippers or Darth Vader's menacing black suit and cape. How about staring down Indiana Jones' leather jacket or Marilyn Monroe's billowing white dress from The Seven Year Itch?
Well, now you can see these, and many more, iconic pieces of American cinema. A slice of Hollywood has parked itself in downtown Phoenix with the arrival of Phoenix Art Museum's much-anticipated Hollywood Costume exhibition.
Arriving from the Victoria and Albert Museum in London, the glittering and glamorous showcase brings together more than 100 of the world's most iconic costumers from a century of filmmaking. Phoenix Art Museum is the final scheduled stop and one of only two U.S. museums to host the exhibit.
I could spend hours telling you about the tangible magic surrounding this great exhibition, but even a lengthy description of the dozens of costumes won't do it justice. Just know that you'll find big name characters like Harry Potter, Spider-Man, Terminator, Jack Sparrow, Sherlock Holmes and more staring back at you from the minimalist displays.
You'll discover interviews with legendary actors and actresses such as Meryl Streep and Robert De Niro nestled in displays that showcase decades of celebrated cinematography. Come face to face with interviews of costume designers and filmmakers to fully explore the role that costume design plays in cinema storytelling and the contribution costume designers make to every production.
"Costumes serve as the visual representation of character evolution and, at times, are a very direct depiction of the role a character serves in plot development," Dennita Sewell, curator of fashion design at Phoenix Art Museum, said in a press release.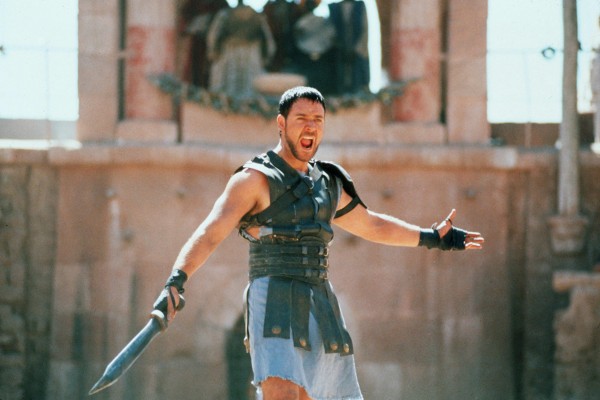 Hollywood Costume is on display through July 6, 2014. The exhibition will be on view Tuesday, noon to 5 p.m., Wednesday, noon to 8:30 p.m., Thursday, noon to 5 p.m., Friday, 10 a.m. to 8:30 p.m., and Saturdays and Sundays from 10 a.m. to 5 p.m. This specially-ticketed exhibition is offered at an admission price of $20 for adults and $10 for children ages six to 17, which includes general admission to the museum. Children under six are admitted free.
Image credits:
Titanic ©20th Century Fox/Paramount/The Kobal Collection. Costume Designer: Deborah L. Scott.
Gladiator ©Dreamworks/Universal/The Kobal Collection/JAAP Buitendijk. Costume Designer: Janty Yates.