Our marketing intern extraordinaire, Michelle, recently visited Hula's Modern Tiki in Central Phoenix. She offered to write a blog post about her experience and we happily obliged.
If you have a craving for some island style food but can't take the time to head to Hawaii, then you can feed that need at Hula's Modern Tiki right here in Phoenix!
Hula's takes island style and adds a modern contemporary twist which you can see not just in the food but in the décor as well. As you enter Hula's you'll first encounter a large outdoor patio with modern furniture, nothing that says island; that is until you walk up to the front doors where you will be greeted by a 6 foot tall wooden carved tiki. Now that's more like it!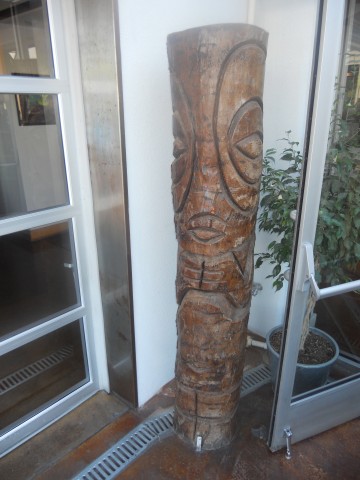 The restaurant itself has an unusual L-shape layout, but the bar which is the highlight is very inviting. The dark wood bar-top has built in glass display shelves that house hundreds of different tiki glassware. On most evenings a large wall serves as the backdrop for old Hawaii movies such as Blue Hawaii or South Pacific.  Hawaiian hula girls and surfers can be found in framed pictures throughout the restaurant.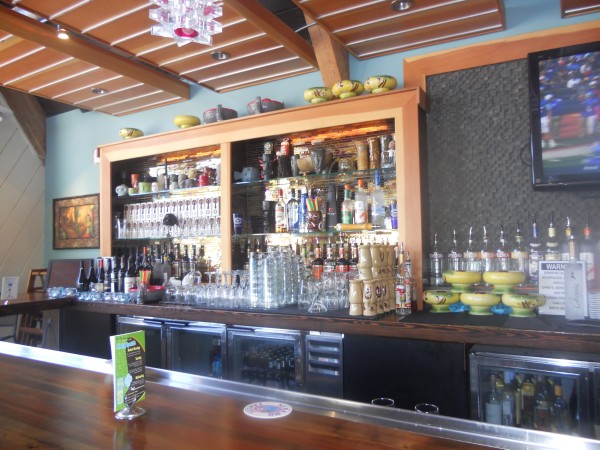 This particular visit was for lunch, so I chose the South Seas Fish Tacos, made with grilled Hapu, which is a Hawaiian Sea Bass. The size of the filet they put in each taco is ginormous, almost making it difficult to actually fold the taco! These tacos paired with the black beans and rice is a plate and belly-full.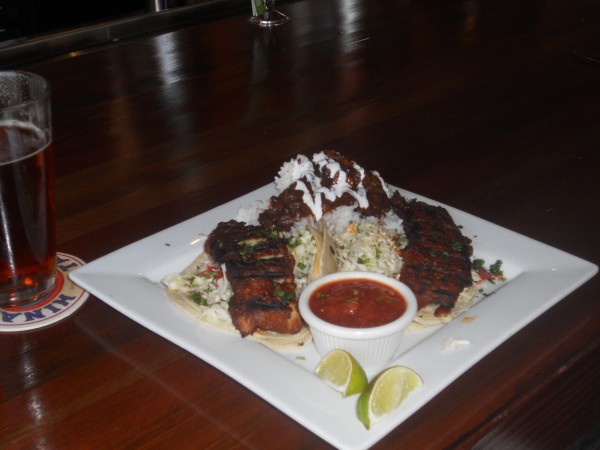 My lunch buddy had the Big Sur Black Bean Burger, which she said was the best black bean burger she had ever tried, and that the grilled Maui onions were the perfect topping.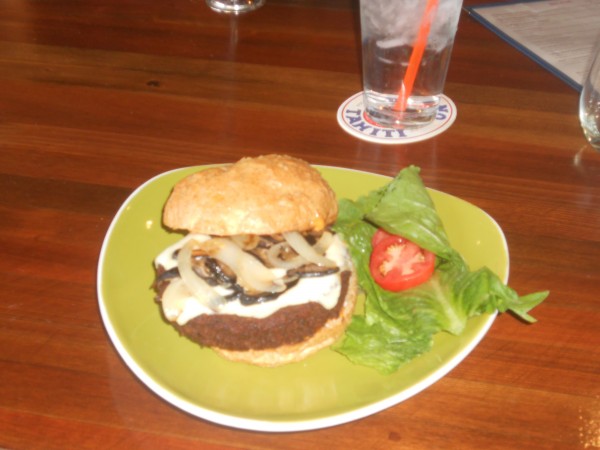 Hula's lunch menu offers up a variety of sandwiches, burgers and salads, while the dinner menu provides more options with more island style flare. My top choices for dinner are the coconut or macadamia crusted fish, and the Duke's Luau Pork Plate. The Duke's Luau Pork Plate is served with traditional style slow roasted pork, rice and coleslaw and is named after the famous Hawaiian credited with spreading the sport of surfing. For the thirsty crowd, a must-try is the Scorpion Bowl, a punch bowl of brandy, rum and juices set aflame, sharing is recommended but not a restriction!
Hula's also offers a full brunch menu on the weekends.  On Mahalo Mondays, 10% of sales go to local charities.
Hula's Modern Tiki is located at 4700 N. Central Ave. See more photos from Michelle's visit to Hula's Modern tiki on Flickr.