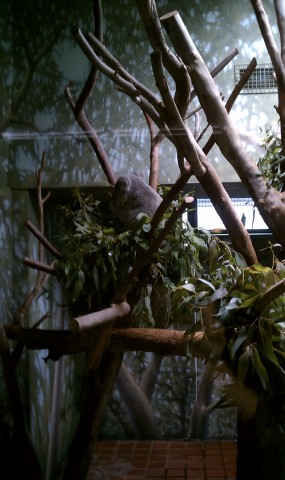 Do you see 'em in there? The Phoenix Zoo opened its new Koala exhibit with two koalas: two-year-old Sooky and her brother, Kobi, who is four years old.
They came from San Diego and now they're happy and healthy in their new home here. They seem quite excited to meet all their new friends in Phoenix, and people are excited to see them! At the zoo, visitors walk up to a cave-like tunnel to see the koalas in their habitats.
Because they're so new and so adorable, the lines can get long during the midday hours on the weekends, so the best time to go is on a weekday or at the beginning or end of your Phoenix Zoo trip. You'll want to spend a lot of time watching them climb trees, play or eat eucalyptus leaves – they are incredibly cute. Of course, you can take home a cuddly souvenir [stuffed] koala available at the gift shop.
See more information about the koalas.
Phoenix Zoo
455 North Galvin Parkway
Phoenix, Arizona
(602) 273-1341