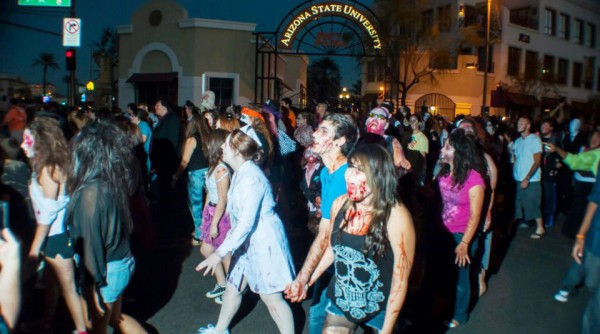 Kooky Phoenix is where you can walk with zombies, whack mutant piñatas and ride light rail in your underwear.
By Michelle Jacoby
While our Lone Star neighbors to the east have coined the slogan "Keep Austin Weird," Phoenix might want to trademark "Keep It Kooky in the 602." That's because some strange things are afoot in our area code, from parading zombies to mutant piñatas to pantless light-rail rides.
What follows is a peek into the kookier side of Phoenix. Continue reading at your own discretion.
The walking dead
It's a scene straight out of every bad zombie movie you've ever sat through: The undead—with their gaunt and hollowed faces, torn and tattered clothes—shuffle through the street, pulled forward by the scent of blood and the prospect of chomping live flesh.
The annual Zombie Walk in downtown Phoenix is (let's hope) the closest you'll ever get to a zombie apocalypse. Each October, usually on the weekend that precedes Halloween, more than 10,000 fans of the macabre dress up as zombies and drag themselves to Heritage Square Park for an evening of fun and fright.
This parade of the undead attracts "walkers" from all walks of life. You'll encounter prom queens decked out in blood-stained evening gowns, briefcase-carrying businessmen whose last meeting apparently got cut tragically short, and roving bands of misfits hungry for flesh and havoc.
The festivities begin with live music, entertainment and food vendors (sorry, brains aren't on the menu). For mini monsters there's even a Little Zombie Zone that includes games, arts and crafts, sports mascots, and a 50-foot fire truck.
Once the sun goes down, however, the undead get down to business as they embark on a 1.2-mile shuffle through downtown.
Phoenix's Zombie Walk bills itself as the "biggest, baddest, bloodiest zombie gathering west of the Mississippi," and this year organizers hope the participants—led by Downtown Phoenix Partnership ambassadors, the Arizona Ghostbusters and the official Zombie Walk king and queen—shuffle and moan their way to a Guinness World Record.
And, because Phoenix zombie walkers are known for their giving ways, nonperishable food items are accepted to benefit St. Mary's Food Bank.
Mutant piñatas
When it comes to art, many cities celebrate the quirky things they're known for. In Dallas, they're never at a loss for cowboy art. In Malibu, surfboard art graces almost every coastal home. And in Miami, pink flamingos have been elevated to an art form.
In Phoenix, however, we pay homage to something unique: the mutant piñata.
Each year, the Mutant Piñata Show goes on display at the Frontal Lobe Gallery at Bragg's Pie Factory on Grand Avenue. Local artist and curator Beatrice Moore installed the first exhibition of this highly imaginative show in 2008, and since then it has become an icon of downtown's art scene.
Local artists are encouraged to create the piñata of their childhood dreams. Past works have included flying pigs with angel wings; whimsical, polka-dotted jellyfish with lashed eyes and voluptuous red lips; and suspended, vein-streaked eyeballs straight out of a science experiment. Hanging from the gallery rafters, the piñatas make you feel like you've walked into a psychedelic dream.
The Mutant Piñata Show is held during Art Detour, a springtime weekend event that celebrates downtown's art scene with open studios, art tours, and pop-up galleries and exhibits.
No pants required
The requirements are unabashedly simple: You must be willing to take off your pants on the light rail while maintaining a straight face and acting like a normal passenger.
So say the rules of the No Pants AZ Light Rail Ride, an annual event held in conjunction with the No Pants Subway Ride in New York City. The event was started in 2001 by Improv Everywhere, a New York City-based "prank collective that causes scenes of chaos and joy in public places."
Participants are encouraged to wear their favorite underwear (no thongs or G-strings, please), board light rail and, as stated in the rules, just act normal.
It turns out that it's not illegal to wear your underwear in public in Phoenix. But it's definitely kooky.