Labor Day means a break from work, so no brown bagging it or braving the lunch rush that day. Whether you're relaxing at home or throwing a party, Salty Sow, District American Kitchen and Wine Bar, and The Arizona Biltmore, A Waldorf Astoria Resort have provided these tasty Labor Day recipes which make a perfect 3-course meal for your day of relaxation.
Appetizer: Summer Farm Salad from Salty Sow 
Ingredients:
½ ounce – baby kale
½ ounce – baby arugula
½ ounce – baby spinach
1 ounce – pt. reyes blue cheese crumbles
1 ounce – pickled red onions
½ ounce – candied almonds
1 ounce – bacon lardons, warm
1 ounce – avocado
1 ounce – white balsamic vinaigrette
1 each – soft boiled egg
Procedure:
1. In a large mixing bowl, gently toss together the kale, arugula, spinach, blue cheese, pickled red onions, avocado, bacon & white balsamic vinaigrette together.
2. Transfer into serving bowl.  Then finish by gently cracking the soft boiled egg onto the center of the salad.
White Balsamic Vinaigrette
Ingredients:
2 ½ ounces – shallots, minced
½ cup – honey
1 ½ cup – white balsamic vinegar
5 ½ cups – extra virgin olive oil
To taste – salt and pepper
Procedure:
1. Mix everything but the EVOO together in a large mixing bowl using a whisk.
2. Then slowly add the EVOO while whisking until all of the oil is incorporated.
3. Season with salt and pepper.
Entrée: Grilled Beef Ribeye with Broccolo Panzanella and Chimichurri from District American Kitchen & Wine Bar
Servings: 4
Ingredients:
4 each – center cut beef ribeyes (10-12 ounces each)
½ cup – softened butter
2 tablespoons – chives (or any fresh herbs to season butter)
Salt and pepper – to taste
5 slices – crusty bread sliced about an inch thick (Sourdough Levain works great)
½ cup – extra virgin olive oil
3 cups – broccoli florets
¾ cup – diced tomatoes
2 tablespoons – diced onion
¼ cup – diced cucumber
2 teaspoons – minced garlic
2 tablespoons – balsamic vinegar
2 cups – prepared chimichurri (recipe to follow)
Procedure:
1. Fold fresh herbs into softened butter, season with salt and pepper and set aside.
2. Preheat grill to about 400 degrees.
3. Season bread with salt, pepper, and extra virgin olive oil and place on grill about 30 seconds each side just to get grill marks and slightly toast (you want it a little soft ).
4. Cut bread in 1-inch cubes and set aside room temperature.
5. Season broccoli florets with about half of the extra virgin olive oil and some salt and pepper; place on a cookie sheet.
6. Roast broccoli on grill for about 10 minutes or until you see it start to char; remove and set aside.
7. Season ribeyes liberally with salt and pepper and rub with a small amount of extra virgin olive oil (too much oil will cause grill to flame up).
8. Grill about 4 minutes on each side for medium rare, or until desired temperature, remove from grill and rest about 5 minutes.
9. While meat is resting, mix broccoli florets, tomatoes, onion, cucumber, garlic, and bread with the rest of the extra virgin olive oil and balsamic. Season to taste with salt and pepper.
10. Place panzanella salad on plates with ribeye on top or on the side.
11. Put about 1 tablespoon herb butter on each ribeye.
12. Spoon desired amount of chimichurri on or around the ribeye and salad (which ever you prefer).
Chimichurri
Ingredients:
¼ cup – minced red onion
¼ cup – scallion minced
1 cup – firmly packed cilantro (finely chopped)
1 bunch – flat leaf parsley stemmed and finely chopped
½ cup – fresh oregano stemmed and finely chopped
3-4 each – large garlic gloves minced
2 tablespoons – red wine vinegar
1 teaspoon – kosher salt
¼ teaspoon – black pepper
¾ cup – extra virgin olive oil
Procedure:
1. Stir all ingredients together in mixing bowl or pulse a few times in food processor except for olive oil.
2. Stir in extra virgin olive oil gradually until emulsified.
3. Season to taste with salt and pepper.
Dessert:  Strawberry-Meringue Pie from The Boulders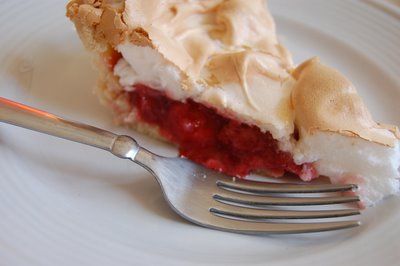 Yield: 8 servings
Ingredients:
Canola-oil cooking spray
1 cup – graham cracker crumbs
4 cups – sliced strawberries
1 cup plus 2 tbsp – sugar
1/4 teaspoon – salt
.5 envelope – unflavored gelatin
1 1/2 tsp – vanilla extract
1/2 cup – egg whites
1/4 tsp – cream of tartar
Procedure:
1. Heat oven to 375°F.
2. Coat a 9″ pie plate with cooking spray; pour in crumbs; press to form an even layer.
3. Bake 15 minutes.
4. Mash 2 cups berries with 1 cup sugar and salt in a medium pan over medium heat. Bring to a boil; stir.
5. Add gelatin; stir until dissolved.
6. Remove from heat; add 1 tsp vanilla and remaining 2 cups berries.
7. Mix egg whites and cream of tartar in a bowl; beat until soft peaks form.
8. Add remaining 2 tbsp sugar and remaining 1/2 tsp vanilla; beat until stiff.
9. Spoon berries onto piecrust; top with meringue.
10. Bake 12 minutes.
11. Cool; refrigerate at least 3 hours.