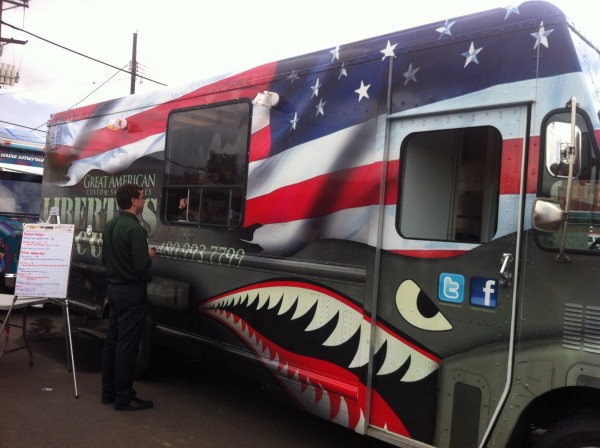 Liberty's Biscuits food truck centers around, you guessed it, the biscuit. But these aren't your grandma's biscuits — owner Rachel Millard uses her biscuits as vessels for delicious fillings such as fried chicken, sausage gravy, eggs, bacon and even Nutella.
When it comes to comfort food my philosophy is to go big, or go home, so I tried The Liberty which comes with fried chicken, bacon, egg, cheese and gravy.
My fellow dining companions went a little less gluttonous with their orders trying the Porky and the Hey Jack.
If you're a biscuit purist you can always just order a biscuit with butter with your choice of butter or jam.
You can indulge in Liberty's Biscuits weekly at the Gilbert Farmers Market on Saturdays as well as the Gilbert Food Truck Court on Fridays from 5 to 9 p.m. For additional locations follow Liberty's Biscuits on Twitter and Facebook.
The food truck craze has exploded in Phoenix with many opportunities to eat from these rolling gourmet "restaurants." We've eaten from many of the food trucks throughout Phoenix and wanted to highlight them individually for you. You can find the food trucks on a regular basis at the Downtown Phoenix Public Market  on Wednesday evenings from 5-8 p.m, Fridays from 11 a.m. — 1:30 p.m. and on Saturdays from 8 a.m. — 1 p.m. At the North Central Farmers' Market on Saturdays from 9 a.m. — 2 p.m., and the Third Thursday of the Month at the Whole Foods Raintree location from 11:30 a.m. — 1 p.m. There are always many more opportunities that you can find by following your favorite truck individually or by following the Phoenix Street Coalition. Bon Appétit!