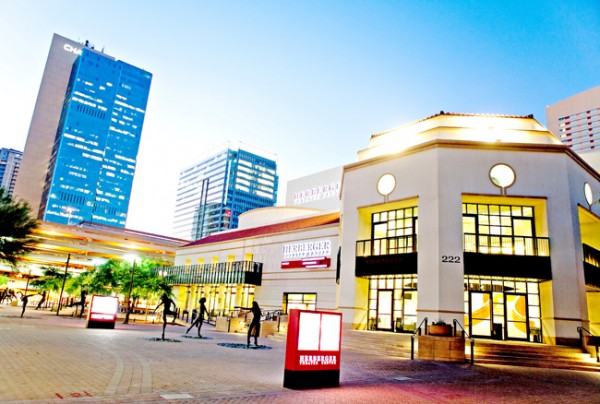 Our communications intern Tayllor recently experienced a Lunch Time Theater production at the Herberger. She offered to provide her insider's perspective and we were happy to oblige. Enjoy! 
Are you tired of staring down last night's leftovers in the break room? I know I am. I think it's about time we learn to expect more than a drab lunch hour day after day.
This week I got to experience more, and it was definitely a refreshing change of pace. For my lunch hour, I got to sit and relax in a comfortable theater just a few blocks from the office and eat a lunch that was pre-prepared and waiting for me. I got to attend Lunch Time Theater at the Herberger.
To those of you who have already discovered this little gem in our concrete paradise, you know how great it is. To those who haven't experienced it, there's no better time than now to try it out!
Lunch Time Theater is a special experience developed by Herberger that stays true to its name – it fits an entire production in a 30- to 45-minute period, including a great lunch. The best part? It costs only $6 to attend and another $6-$8 for the customized meal of your choice. You'd spend more than that going out to lunch just about anywhere around here.
Located in the cozy Kax Stage, hungry patrons file in to find a dark stage and rows of chairs waiting expectantly. After grabbing the lunch with my name on it from a large table, I managed to find an empty seat and started chowing down on my chicken salad sandwich and chips (which were seriously delicious). The 100 or so seats were already packed full of people. I settled in and watched the lights go dim as the music started and our entertainer, Annie Moscow, stepped on stage.
Her performance was an eclectic mix of jokes and musical numbers that carried us through a few of life's toughest issues and comical moments. The crowd laughed and snacked on merrily through the entire thing. There were more than a few office folks in the room who were trying to sneak some fun into the middle of the day. The atmosphere was light and cheerful as Annie walked us through her "Sea of Change."
It really is a novel concept if you ask me. I mean, how often do you get to catch a one-act play on a Tuesday afternoon? It was definitely my own great escape, and far better than the bologna waiting for me in the fridge.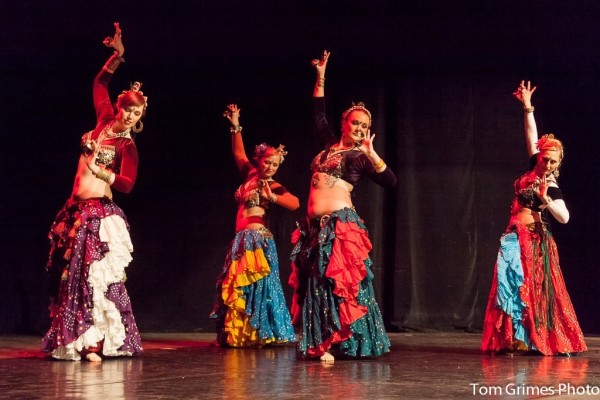 As an added bonus, we got to experience a complimentary Kamalah Tribal Belly Dance by a troupe based in the Phoenix area. Their costumes glittered and bounced as they walked us through the ways of American Tribal Style dance. I couldn't believe it when they shared a little secret with us – everything they do is essentially improvisation! You wouldn't believe it watching them dance.
Guests can order tickets for Lunch Time Theater online, as well as pre-order your lunch from a variety of salad and sandwich options for even the pickiest of eaters. The meal even comes with a side, dessert, and a drink.
So if you're looking to make your own great escape, I suggest you check out this quirky locale right here in the heart of downtown Phoenix. You might even emerge refreshed and ready to tackle the rest of that afternoon.
Insider Tip: The doors to Kax Stage open up at precisely 11:40 a.m. and there's no air-conditioned lobby to wait in before that, so try to time your arrival after that. The show doesn't start until 12:10 p.m., and there really aren't any bad seats, so don't worry about being the early bird for this one!
Check Lunch Time Theater's current performance schedule here.