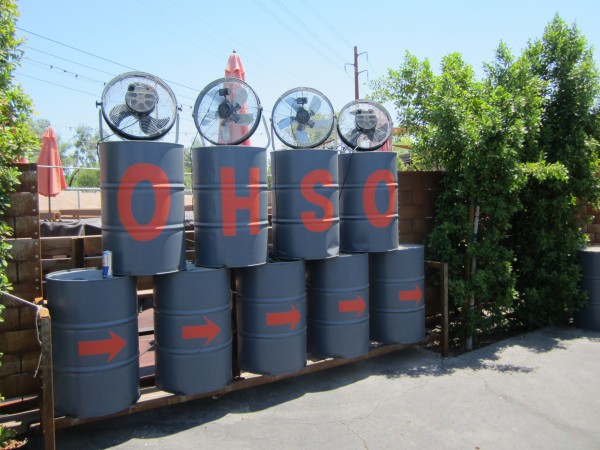 There's a new addition to the line-up of restaurants in the Arcadia area, and it's a cool one. O.H.S.O Eatery + nanoBrewery serves up a well-rounded menu that includes small plates, flatbreads, burgers and sammies. And, of course, beer! They do Happy Hour M-F, 11am-6pm (that's not a typo) and a Beer Brunch on Saturdays and Sundays. The nanobrewery portion of the restaurant is currently under construction but promises to be open soon – I'm already plotting my next visit. If beer is not your thing, they offer a variety of wines and cocktails as well.
I had the Cheese Flatbread and a Salad (disclaimer: I'm a vegetarian) which was quite tasty. My lunch companions both opted for sammies which were a hit. To quote the one who had the Pesto Chicken, it was "VERY GOOD!"
If you like to patronize restaurants that allow your dog, this is your place. The back patio is uber dog-friendly with a line-up of faucets that pour water into waiting dog bowls. The sign above says "Barking Bar (Free Refills)" – how cute is that? And inside the restaurant, painted dog paws dot the floor.
You may be wondering what O.H.S.O stands. I'm wondering the same thing. I'll have to ask next time I'm there.
See more photos of the restaurant.
O.H.S.O Eatery + nanoBrewery
4900 E. Indian School Rd.
Phoenix, AZ 85018
602-955-0358
www.ohsobrewery.com