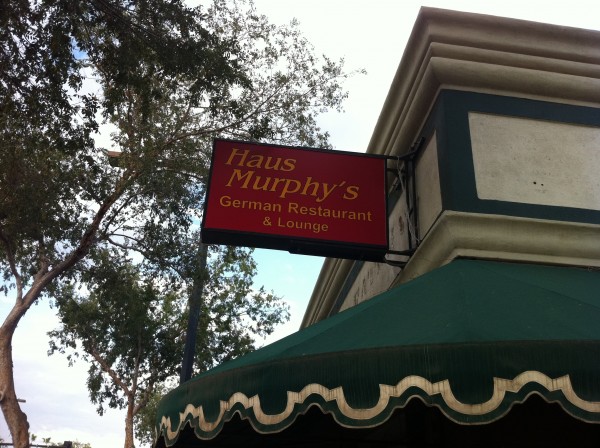 Oktoberfest is right around the corner – I can hear the umm-pah-pah tunes and smell the bratwurst and sauerkraut already. Who knew you could find a little piece of Germany in downtown Glendale? Well, we did and so did Guy Fieri who featured Haus Murphy's on the Food Network's Diners, Drive-Ins and Dives. After reading this blog post you'll also know where to go to satisfy your traditional German cuisine cravings and to celebrate Oktoberfest this year.
Located in charming downtown Glendale, Haus Murphy's is our go-to spot when we're craving a stick-to-your-ribs German meal. You'll find all the usual suspects on the menu; bratwurst, schnitzel, giant pretzels and strudel. They also have a variety of German beers on tap.  I suggest you do some curls before ordering Haus Murphy's giant stein of beer, they are large and very heavy. It took me using both arms to lift the thing to my mouth. Oh, the sacrifices we make for some good German beer.
On Friday, Saturday and Sunday evening Haus Murphy's has a variety of traditional dinner specials and the "Haus Band" playing German music.  The band members, stroll throughout the restaurant and play their umm-pah-pah tunes from chanting German drinking cheers, to performing in German. Just don't take photos of the band while you are there because they, "told their wives they were at the brothel." Har, har.
My favorite weekend dinner special is a pork shank that is slow roasted, and served with German potatoes and sauerkraut. I can't possibly explain how good this pork is, but I will try. The meat falls off the bone and has a perfectly salty, smoky, slow roasted juicy goodness to it. Are you hungry yet? This type of meal keeps me up at night, craving more.
Sweet tooth? Then don't skip the house made desserts! On my last visit we had the Apple Strussel. In the past, I've also had the Black Forest Cake which as a chocolate fan, I prefer.
This year's Oktoberfest celebrations take place on the weekend of October 14 — 16th and October 21 — 23. Reservations are recommended. Don't forget those stein curls to prepare.
Haus Murphy's is located at 5739 W. Glendale Avenue in downtown Glendale. You can find more photos from our last visit to Haus Murphy's on our Flickr page.