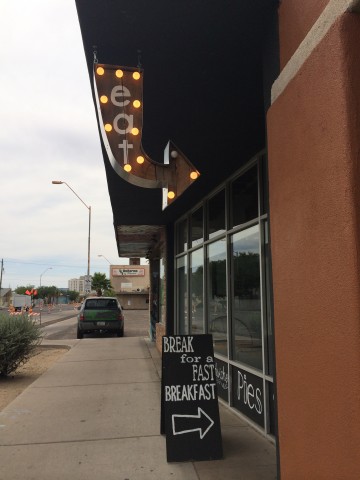 I have a new lunch obsession. First, it was the Phoenix Public Market Cafe (still a favorite). Lately, it's been Ollie Vaughn's. A cute little sandwich shop located in the Coronado neighborhood, Ollie Vaughn's serves breakfast and lunch Monday to Saturday. For breakfast the menu features breakfast sandwiches, biscuits and gravy, pancakes and pastries and for lunch a variety of sandwiches and salads. Did I mention the pastry case? While you are placing your order the delictible pastries stare at you taunting you to try them. I always oblige.
The menu changes seasonally at Ollie Vaughn's as owner Lindsey Magee uses locally sourced ingredients.  So far I've tried the BLT, the tuna salad and two incarnations of the veggie sandwich. If you are a tuna salad fan (and even if you aren't) it's a must try. It's quite possibly the best tuna salad sandwich that I have ever had. Even as the menu changes and my usual favorites disappear, I look forward to what's next from Magee.
As I mentioned, Ollie Vaughn's has a fantastic pastry case. I have little self control when it comes to something sweet so I always add a little something to my order. Here, the selection also changes seasonally but you can expect a variety of cookies, brownies, tarts and mini pies.
Ollie Vaughn's is located at 1526 E. McDowell Rd in Phoenix.