Organ Stop Pizza is a local institution, catering to grateful pizza pie and theater pipe organ enthusiasts for the past 43 years.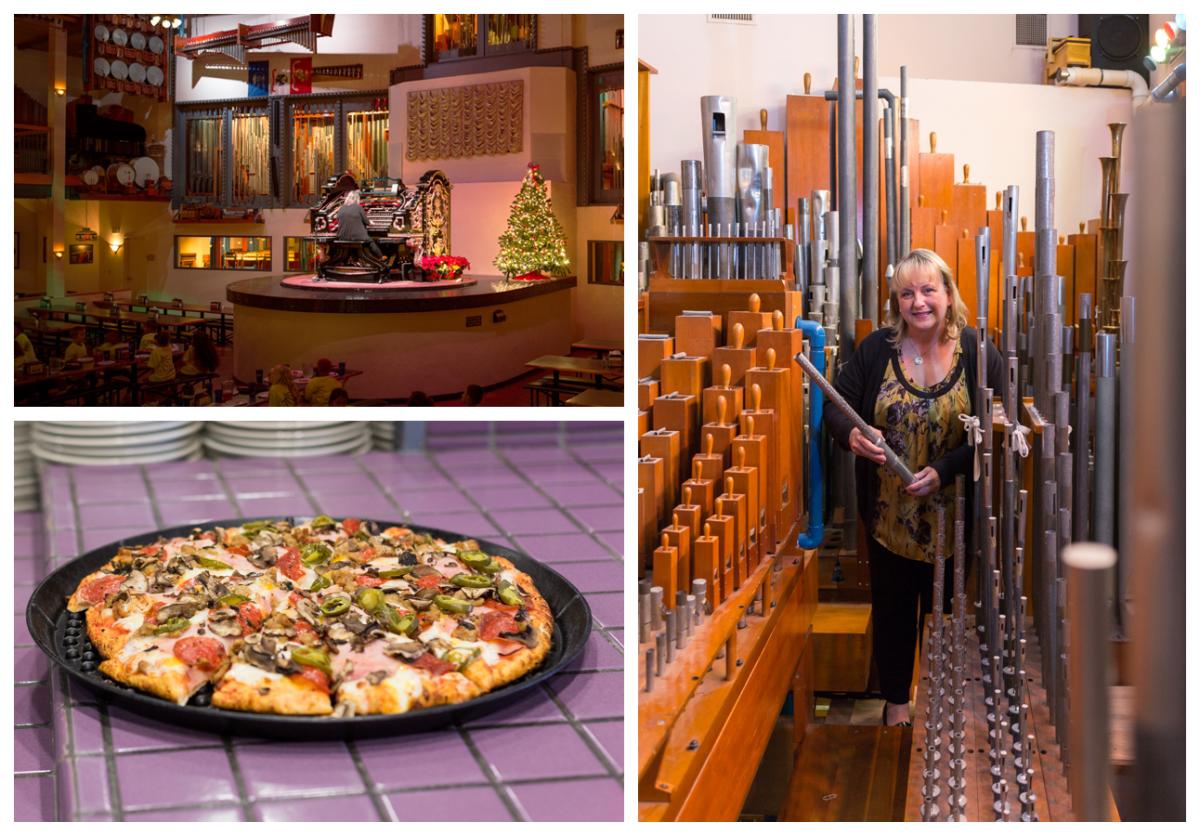 Photos by Mark Lipczynski
For generations of Valley diners, Organ Stop Pizza is a local institution, catering to grateful pizza pie and theater pipe organ enthusiasts for the past 43 years. Today, with a dining room that often spills over with more than 700 nightly diners, and a massive, 1927-vintage Wurlitzer theater organ, Organ Stop Pizza is one of those Valley phenomena that prompts residents to exclaim to visitors, "Hey, you've got to experience this!"
Originally located at Seventh Street and Missouri in central Phoenix, Organ Stop's current (and actually it's third) location is in a fortress-like, 17,000-square-foot building just off the southwest corner of Southern Avenue and Stapley Drive in Mesa, where one would think the pizza is the primary draw.
Organ Stop manager and co-owner Jack Barz, however, doesn't really characterize the food as the main attraction. Barz, who has worked at Organ Stop for 30-plus years, sums it all up neatly.
"Honestly, I think of us more as an entertainment facility that serves pizza, rather than a restaurant that features an organ," he says. "Of course, we want to make sure that we provide a consistently good [food] for our diners all of the time, but people are here to experience the organ, with its lighting and special effects."
The organ is truly the centerpiece at Organ Stop. Regally reposing on a tall pedestal at the front of the vast dining hall, the grand Wurlitzer presides over hundreds of diners who, like members of a music-loving church congregation, sit below it at long, communal tables. There, they have full view of the organ and its nearly 6,000 pipes, many of which light up in a dazzling array of colors to match the music's tempo. To power its mighty chords, the enormous instrument boasts four turbine blowers that generate airflow at 14,000 cubic feet per minute.
To give the Wurlitzer all the attention it merits, Organ Stop employs three staff organists, two of whom alternate playing night to night. The third, a musician from Portland, Ore., is flown in by the restaurant to play several times a year. The music program is interactive—based on audience requests.
"We have what we call the 'dirty dozen,' songs that have to be played on a regular basis," Barz says. "Songs like 'Phantom of the Opera' and others that are crowd pleasers."
All of the other songs on the playlist come from the audience. (The old chestnut "Chattanooga Choo Choo," for instance, is the most frequently requested song in Organ Stop's history.)
Whether you're there for the pizza or the pipes, the restaurant's particular alchemy defies easy description. Barz does agree, though, that diners come in looking for the kind of experience that's rooted in a different era in this country—an experience that, on its surface, might seem somewhat outdated or anachronistic, but, in reality, is actually still very much in demand by a large segment of the population.
"It's something they can't find anywhere else," he says. "Something where people from 2 to 102 years of age can come in and just enjoy it without anyone—ever—being bored."
Organ Stop Pizza
1149 E Southern Ave, Mesa 85204
480-813-5700