Greater Phoenix is an outdoor adventurer's dream. With all the options, where does someone start their exploration? The guides at Arizona Outback Adventures are here to help.
Greater Phoenix is an outdoor adventurer's dream. We have year-round sunshine and blue skies, a seemingly endless array of mountain trails, desert terrain adorned with iconic saguaro cactuses, and six lakes and a flowing river within a 75-minute drive of the city. With all these options, where does someone start their exploration?
The guides at Arizona Outback Adventures are here to help. Over the coming weeks we'll be featuring tips from AOA guides about everything from paddling to hiking to mountain biking in Phoenix and the surrounding region. They'll show us where to go, what to do, and maybe divulge a few of their insider secrets, too.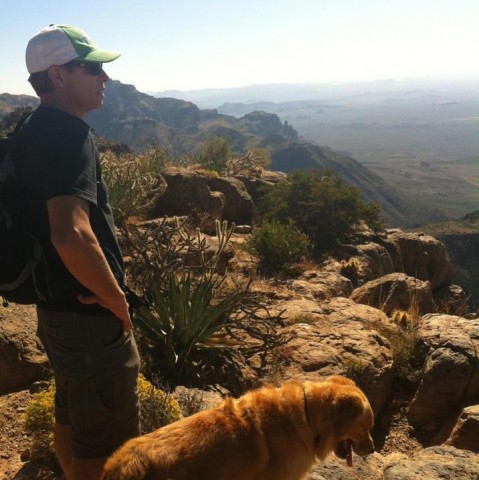 This week we feature Chris Jolley, an expert outdoor guide with over 20 years of experience. Chris is now an independent business owner in the Phoenix area, but he still makes time to guide with AOA as much as his schedule allows. Chris has worked as a river rafting guide for many years on some of the most famous waterways in the West. He has worked as a hiking, backpacking and biking guide across Arizona and is an avid hiker in the Phoenix area in his free time.

What's the best way to explore the desert around Phoenix?
It varies by season, but from about October through April I'd say hiking the Superstition Mountains — Flat Iron and Siphon Draw Trail — or mountain biking out at McDowell Mountain Regional Park.
What's the best family-friendly outdoor adventure in Phoenix?
Again, it depends on the season. In summer, I think the best way to spend a day is kayaking the Salt River in the morning, enjoying a resort in the afternoon by playing in the pool or lazy river – then hitting up a Diamondbacks game that night. In the spring, enjoy a sunrise hike up Camelback Mountain, a spring training game in the afternoon, and end the day with happy hour at Los Sombreros for some margaritas and Mexican food.
What's one spot around Phoenix that's a good representation of the Sonoran Desert?
Hiking the Superstition Mountains or rafting on the lower Salt River. Depending on the time of year, there is the opportunity to really see a little bit of everything. Rafting is the best way to see the desert – especially in the summer –  because so many plants and animals live right at the water's edge.
Just get out and explore. The desert is not dangerous. Be smart and pick an activity where you can keep cool. There's so much to see, just get out there and do it!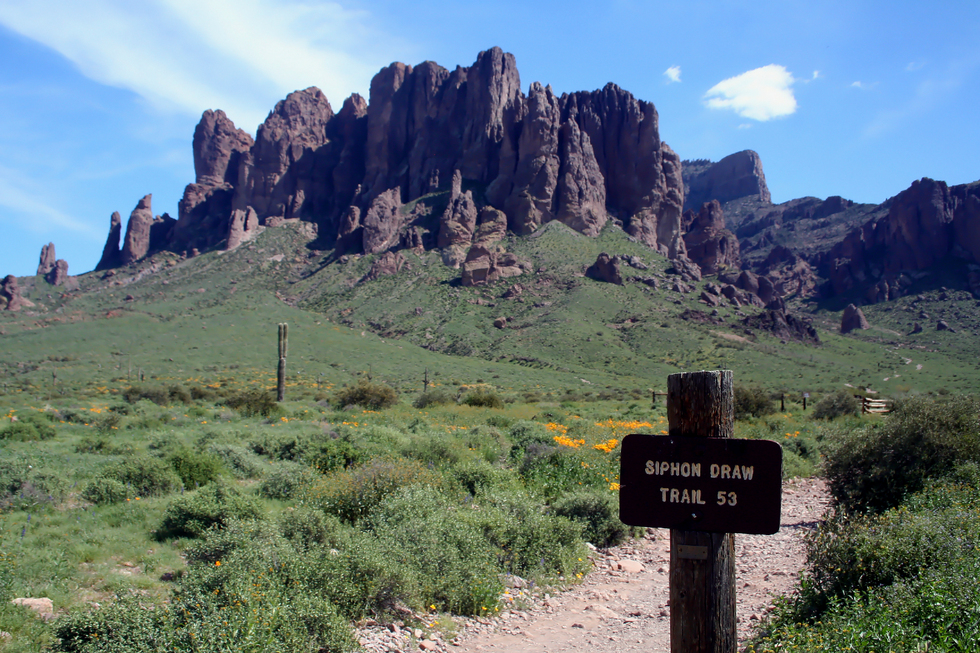 Siphon Draw Trail in the Superstition Mountains (Photo credit: hikearizona.com)

What's your favorite trail near Phoenix?
I hike Cholla trail on Camelback most mornings, but I'm also a big fan of the Tom's Thumb trail in the McDowell Sonoran Conservancy or Fat Man's pass at South Mountain Park and Preserve.
Best post-adventure place to grab a meal:
Los Sombreros in Scottsdale. Great food, great margaritas.
After working as a guide here for over 20 years, would you say you know the Sonoran desert pretty well?
I've learned a lot since I was a rookie guide. You encounter new things all the time when guiding — it's never monotonous. That's why people end up in this job. I constantly hear about, and see things in the desert that surprise me.
When you take visitors to Phoenix out for an outdoor activity, do you have anything that you really like to share with them?
The cool thing about the Sonoran Desert is it's not just "kitty litter." There is so much life here. People never expect the wildflowers or the incredible views. They think it's going to be plain flat sand.
Do you have any other favorite desert facts that people don't expect to hear when you're guiding an outdoor activity?
The Phoenix area has enough water to support over 20 million people because of the aquifers here. It's pretty fascinating. People are also always surprised that you can go from sea level to 12,000 feet in elevation without leaving Arizona. That's what makes it such a unique place.
What is your favorite little-known trail near Phoenix?
The Quartz Ridge Trail at 32nd Street and Lincoln Drive in the Phoenix Mountains Preserve. It can be moderate or can be made much more difficult depending on what you want.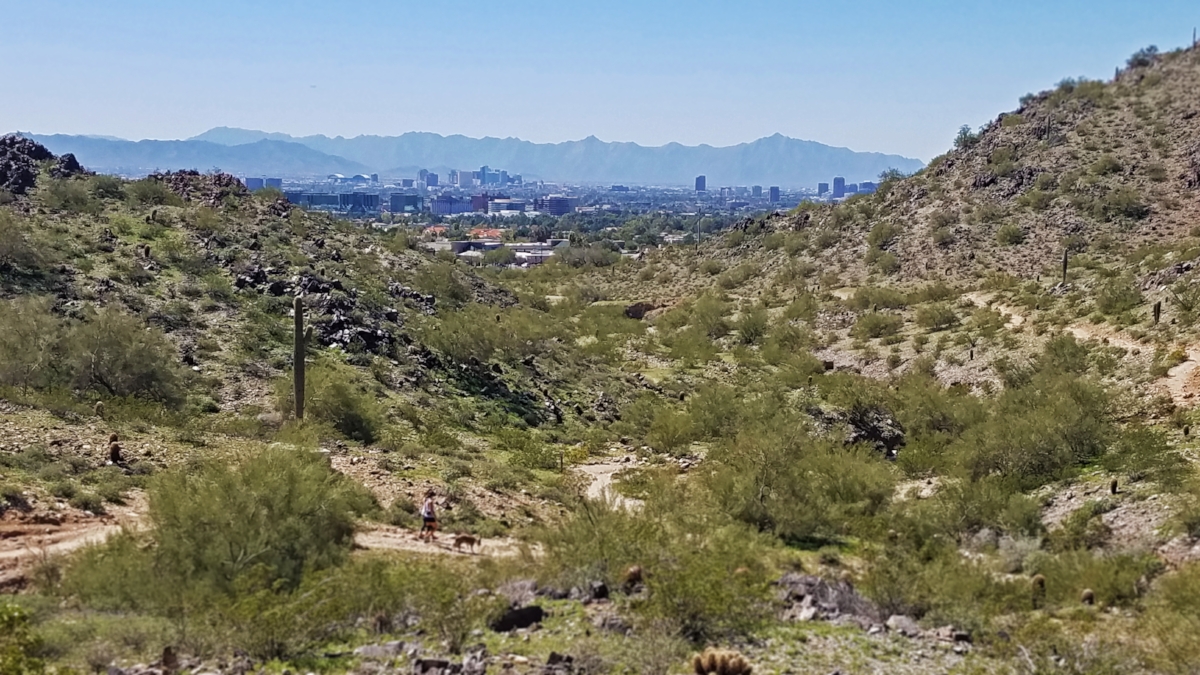 Quartz Ridge Trail

When you want to get outside of Phoenix and see something different, where do you head for your outdoor activities?
I love Sycamore Creek off Highway 87 and the Superstition Mountains. You won't see as many people, but they are both very accessible.
Do you have any tips to help visitors plan their outdoor activities?
Research your options, check out the city and state park websites. The convention and visitor bureaus in the area also have a lot of helpful info. Just plan to start your adventure in the early morning, especially in the summer, so you have a lot of time and can relax in the afternoon.
What is an unexpected hazard that visitors are likely to encounter in the desert?
Probably the teddy bear cholla cactus. They're vicious.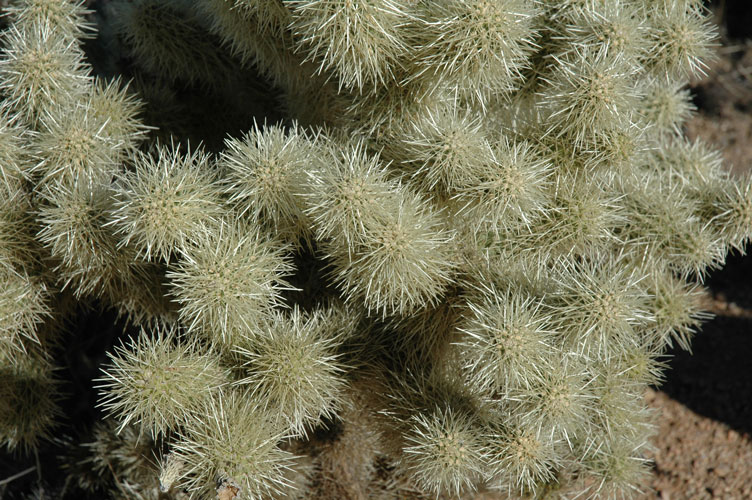 Don't get too close to the teddy bear cholla!

What's the best way to cool off on a warm desert day?
I gotta say rafting the Salt River. Out there you can jump in the river, get back in the raft and feel a little chilly even on a warm day.
What do you enjoy most about working as a guide?
Guides can get you where you're going and really work to create a whole experience. They make sure your day goes the way you want it to and that eliminates a lot of the worry. But I think the biggest part is the education aspect a guide adds to any outing.