Greater Phoenix is an outdoor adventurer's dream. With all the options, where does someone start their exploration? The guides at Arizona Outback Adventures are here to help.
Greater Phoenix is an outdoor adventurer's dream. We have year-round sunshine and blue skies, a seemingly endless array of mountain trails, desert terrain adorned with iconic saguaro cactuses, and six lakes and a flowing river within a 75-minute drive of the city. With all these options, where does someone start their exploration? 
The guides at Arizona Outback Adventures are here to help. Over the coming weeks we'll be featuring tips from AOA guides about everything from paddling to hiking to mountain biking in Phoenix and the surrounding region. They'll show us where to go, what to do, and maybe divulge a few of their insider secrets, too.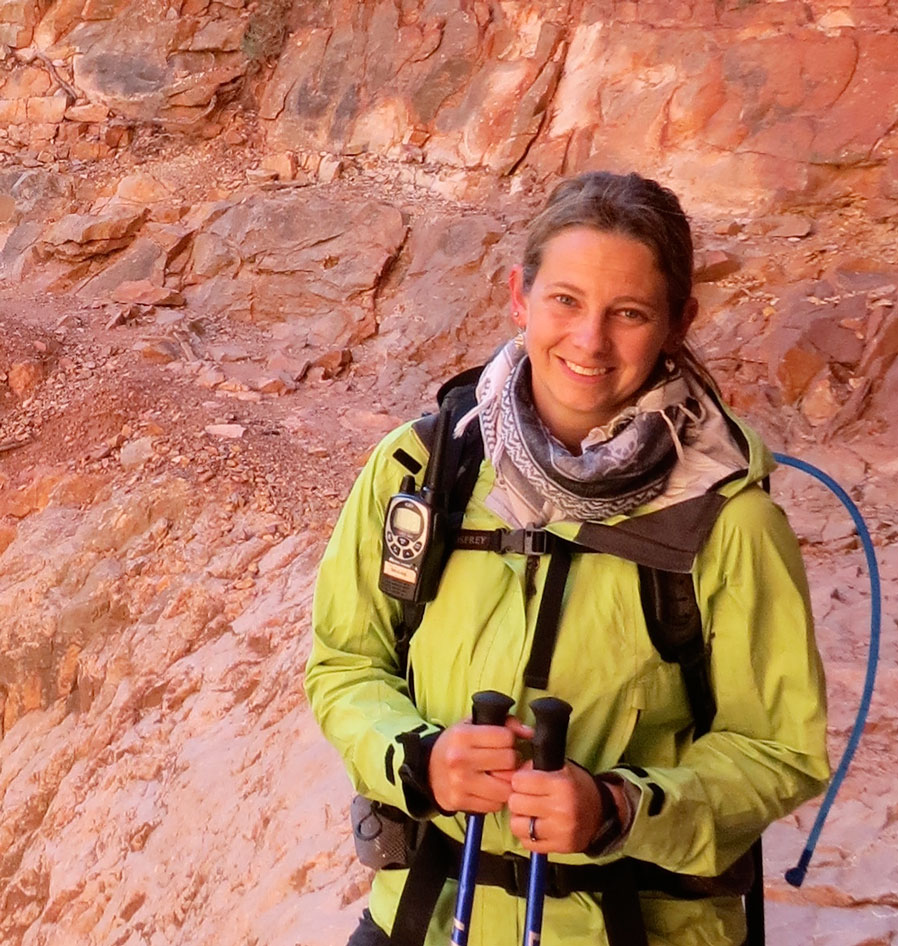 This week we feature Megan Anderson. Megan is a native to the Phoenix area and has been exploring the Sonoran Desert her whole life. She's been working as an outdoor guide for 10 years.

What's the best way to explore the desert around Phoenix?
Hiking, of course. It's the classic, never-fail way to see all the Sonoran has to offer. You can enjoy this sport basically anywhere and it slows you down so your experience is enhanced by things like blooming flowers, cloud formations and wildlife encounters.
What's a good family-friendly adventure in Phoenix?
Rafting and kayaking trips on the Lower Salt River are super fun and enjoyable for everyone. There are some great indoor adventures around too, though — rock climbing at AZ on the Rocks or the Phoenix Rock Gym, or trampoline gyms like AZ Air Time are my favorites!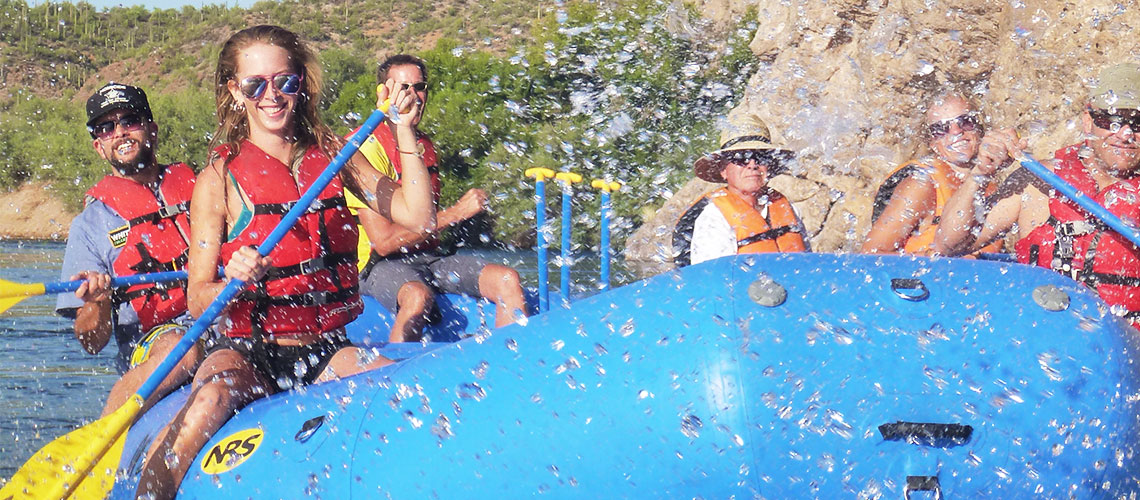 Rafting on the Salt River

What's the best way to cool off on a warm desert day?
Head out to the Salt River or one of the many nearby lakes. They are easily accessible for all types of adventurers. You can rent stand-up paddle boards, kayaks or jet skis for added fun. Or just head to Tempe Beach Park and play in the splash playground!
Best post-adventure place to grab a meal:
I love Zipps — shuffleboard! — and Boulders on Broadway for a casual climber/cyclist feel.
Where's the best place to catch a famous Phoenix sunset?
There are a lot of incredible viewpoints you can hike up to, but if that's not your thing, head to South Mountain. You can drive to the top of the mountain in the evening and watch the sunset with all of Phoenix spread out before you.
Share a "secret" spot that visitors to the desert might not know about:
I head a little ways north in the summer to check out the water slides, waterfalls, swimming holes and rappels of Salome Canyon. I can't tell you how to get there, though; that's part of the fun of it.
Would you say you are discovering new things all the time?
Yes, because the parks and preserves in Phoenix and the surrounding area are always expanding, changing and improving. I just recently learned about a great mountain bike trail called Marcus Landslide that runs from the Tom's Thumb trailhead in the McDowell Sonoran Preserve down into the McDowell Mountain Regional Park near Fountain Hills. It's one of my new favorites.
What's one spot around Phoenix that's a good representation of the Sonoran Desert?
The Hidden Valley trail in South Mountain Park. Out of Beverly Canyon and up to Fat Man's Pass, it really feels like the desert. It is a great trail about medium difficulty.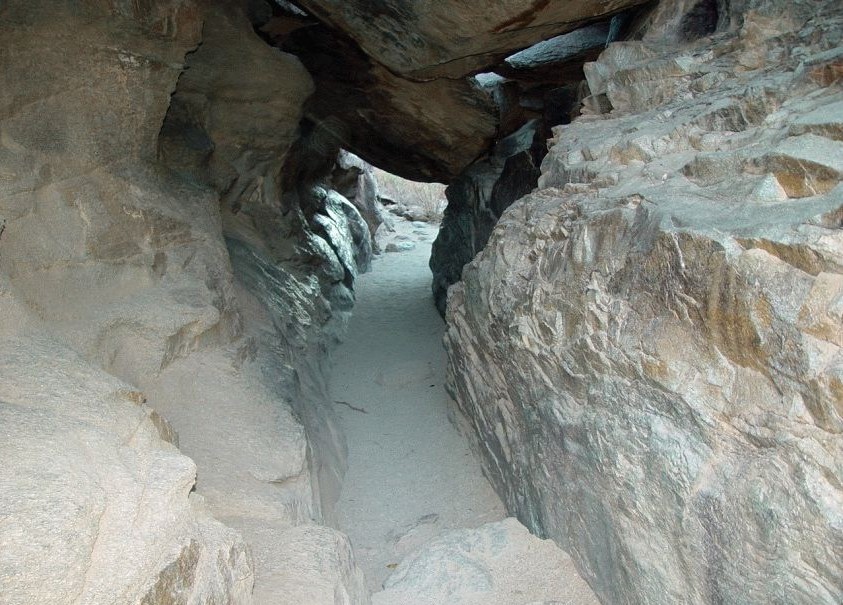 Hidden Valley Trail at South Mountain

When you take Phoenix visitors out for an outdoor activity, be it hiking or mountain biking, do you have anything that you really like to share with them?
I always enjoy talking about and pointing out the many ways that plants and animals have evolved to protect themselves and conserve water in the desert. A great example is the green bark of the palo verde tree. It sheds its leaves to retain water during dry periods and photosynthesizes through its bark alone. The flora and fauna here are just amazing.
What do you caution visitors to the desert about?
The most dangerous things in the desert are thorny plants. People are always worried about rattlesnakes – they are out there and you may run into them – but they are usually in the shade off the trails. I like to think they are the most "accommodating" of venomous snakes because they get out of your way as fast as they can. But those thorny plants, they'll get you when you least expect it and they give no warning.
What is your favorite little-known trail near Phoenix?
In the spring when it's green and the temperature is perfect, I recommend the Go John and Overton trails at the Cave Creek Recreation area or the Seven Springs access area just north of Cave Creek in the Tonto National Forest. There is a nice creek there and cool shady sycamore trees offer a different outdoor experience.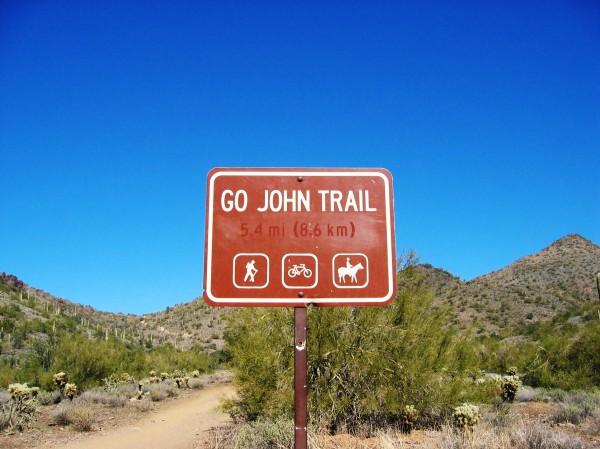 Do you have any tips to help visitors plan their outdoor activities?
Look at the preserve websites. They have a lot of great maps and information. You can also call the park rangers. They love to talk to visitors and are an excellent resource.
What are some practical tips for adventuring in the desert?
Use a hydration bladder. It is an easy way to carry a lot of water and you don't have to always open and close your backpack in order to get at it. I find them really great for kids because they end up chewing on the drinking hose and staying really well hydrated.
Is there an advantage to having a guide with you while hiking or mountain biking around Phoenix?
You don't have to consider the safety aspect as much. The planning is done for you and the guide is there to ensure that you have a great time while staying safe so it takes away stress.
What do you enjoy most about working as an outdoor guide?
I love that I am always learning things and that I get to share all of  the great information I know about the desert with other people. I particularly enjoy taking families and groups with kids hiking because they get so excited about and amazed by nature.