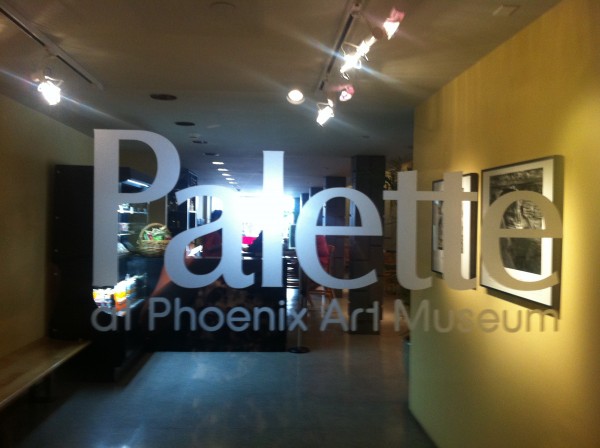 A co-worker and I were recently invited to a lunch at the Phoenix Art Museum's new restaurant, Palette. I had never been so I was excited to try a new place to eat at one of my favorite places in Phoenix.
Palette focuses on fresh, local and sustainable regional menu items. Visitors can either sit inside or outside in the museums's scupture park or Palette even offers some grab and go items when you don't have time for a leisurely meal. There are also locally made products like olive oils, jellies, honey and more that can be purchased for yourself or as gifts.
I ordered the shrimp tacos and my co-worker ordered the seasonal vegetable quiche. The shrimp tacos were perfect for a warm summer day with a fresh grilled flavor and cool mango salsa. My co-worker loved her quiche, and mentioned how flavorful and fresh it tasted.
When our waiter suggested dessert, we couldn't pass up the red velvet ding dong and the basil strawberry shortcake. Both were delicious, and I especially loved the shortcake "cookies" served with the strawberry shortcake.
On the First Friday of every month Palette hosts special events from wine tastings to pop-up dining with local chefs. Palette also serves a brunch menu on Sunday.
Palette is located inside the Phoenix Art Museum at 1625 N. Central Avenue, Phoenix.
*You do not have to pay admission to the museum to eat at Palette.