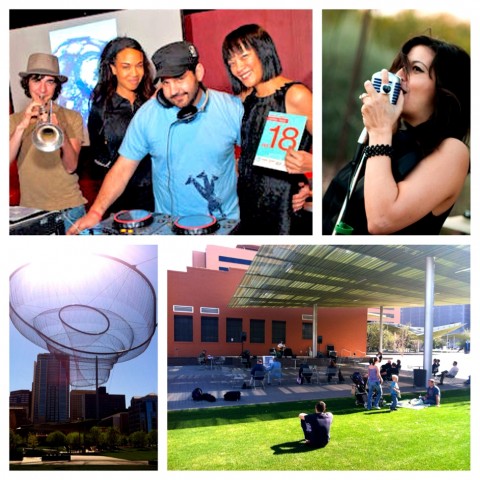 Our marketing intern, Marcos, has a passion for all the fun events that happen around Phoenix. He put together the blog post below that features musical events happening in March in Phoenix. Thanks, Marcos!
Greater Phoenix has a number of concerts for all to enjoy, from famous award-winning musicians to local artists. Take a listen to what Phoenix has to offer, dance and smile to the wonderful sounds of music and musical theater!
Gerry Cullity's — Alice in Wonderland
Enjoy Gerry Cullity's original music and lyrics of this original adaptation. Join the adventures of young Alice as she explores a zany wonderland in this children's classic by Lewis Carroll. On an idle afternoon, by chance, following a White Rabbit who disappears into its burrow, Alice herself stumbles into the rabbit hole and soon is immersed in a colorfully and exciting Wonderland. Whimsical songs and discoveries surround her as she encounters a crew of madcap characters including the Queen of Hearts and, yes, an army of playing cards
Details: Desert Stages Theatre, 4720 North Scottsdale Road, Scottsdale. Admission: $15.00 adults, $12.00 children, March 23rd, 24th, 25th, Hours: Fridays and Saturdays at 7:30 p.m.; Matinee on Saturdays, Sundays at 1:00 p.m. and 3:00 p.m. (480) 483-1664
Afternoon Concert series at Civic Space Park
The Phoenix Parks and Recreation Department is bringing live music to the downtown lunch scene with the Civic Space Lunchtime Concert Series. Every Wednesday on the parks outside amphitheater stage, the concerts are free to the public and will feature outstanding performing and visual arts.
Details: Civic Space Park in Downtown Phoenix, 424 N. Central Ave, Phoenix. Admission: Free, Wednesday's, March 21st and 28th, 11:45 a.m. to 1:00 p.m.
Live Music at Desert Ridge Marketplace
Come out to the Desert Ridge Marketplace and enjoy live performances from local musicians every Friday and Saturday night near the District Stage and AMC Fountain Area. Each week different performers will showcase their music for you to enjoy.
Details: Desert Ridge Marketplace, 21001 N. Tatum Boulevard, Phoenix. Admission: Free, Friday's and Saturday's, March 23rd – 24th, and March 30th – 31st,. 7:00 p.m. – 10:00 p.m.
World Celebration — Avant Garden
Join DJ Miguel Ivery in celebrating world cultures through dance followed by the dynamic world music of traveler. Dubbed the "Valley's mixmaster maestro of bossa nova baselines and jazzy globetrotting jams" by the Phoenix New Times, DJ Miguel Ivery lays down unique world beats enhanced by traditional dance performances from around the world. Traveler returns to the Desert Botanical Garden with their captivating multi-ethnic fusion of music. Featuring unique instruments from around the globe and entrancing gypsy violin,
Details: Desert Botanical Garden, 1201 N. Galvin Parkway, Phoenix. Admission: Members: $12.00; General Public: $18.00, Thursday, March 22nd, Hours: 6:00 p.m – 9:00 p.m., (480) 941-1225
Cubano Be, Cobano Bop: Poncho Sanchez and Latin Jazz Band featuring Terence Blanchard
Two Grammy Award-winning jazz legends share the stage in one sizzling concert. Trumpeter Terence Blanchard joins with percussionist Poncho Sanchez and his Latin Jazz Band in a red-hot tribute to the Afro-Cuban jazz pioneered by the Original Conga King Chano Pozo and Dizzy Gillespie, whose 1947 concert at Carnegie Hall forever changed the face of American music.
Details: Scottsdale Center for the Performing Arts, 7380 East Second Street, Scottsdale. Admission: $29.00 – $39.00, Friday, March 23rd, 8:00 p.m. (480) 499-8587
Music in the Garden Spring Concert Series – Pete Pancrazi
Pete Pancrazi blends original compositions and Latin Jazz to create a unique and inviting atmosphere. One of the most notable artists in Phoenix, this master of Bossa Nova will create the perfect ambiance for a relaxing evening
Details: Desert Botanical Garden in the Ullman Terrace, 1201 N. Galvin Parkway, Phoenix. Admission: Member: $15.00; General Public: $21.00; Children: $8.00 and all children under 3 are free, Friday, March 23rd, 7:00 p.m. — 9:00 p.m. (480) 481-8124
Native Trails
Native Trails, presented by the Fort McDowell Yavapai Nation and produced by the Scottsdale Center for the Performing Arts, will debut its tenth season of free noontime festivals dedicated to exploring the rich and varied cultures of Native America. There sensory journey to the First Nations of Arizona and North America. Musical performances using traditional instruments such as flutes, gourds and drums will delight your ears. A variety of colorful dances ranging from inter-tribal pow wow dances to the excitement and energy of the hoop dance will amaze your eyes. And the rhythmic drumbeat in your chest as you join the performers for a traditional round dance will energize your spirit.
Details: Scottsdale Center for the Performing Arts – Outdoors at the Scottsdale Civic Center Park 7380 East Second Street, Scottsdale. Admission: Free, Thursday's and Sundays, March 22nd, 24th, 29th, 31st, 12:00 p.m. — 1:30 p.m., (480) 499-8587
Glendale Folk and Heritage Festival
A celebration of folk music, history and culture; from over 150 performers featuring everything from folk and bluegrass music to cowboy poetry and storytelling on six performance venues, including an Arizona Centennial venue. Workshop's by accomplished musician that will teach you to play Saws and Spoons to Finger-style guitar. The park will have the Blacksmith on site to give demonstrations and there will be tours of the main house. In this park setting there are live chickens and peacocks on the grounds, so plan to bring the family and make a day of it.
Details: Sahuaro Ranch Historical Area, 9802 N 59th Avenue, Glendale. Admission: Free, Saturday and Sunday, March 24th — 25th, 10:00 a.m. — 4:30 p.m.
Highland Jazz Festival
Highland High School and Arizona State University will present its 3rd Annual Highland Jazz Festival. Grammy Award winning saxophonist Joe Lovano and world renowned trombone performer John Fedchock will headline the weekend of Jazz education. The Jazz Festival will span the entire southwest reaching over 1,800 students, music educators, and general public throughout Arizona, Southern California, Texas, Nevada and New Mexico.
Details: Highland High School Auditorium, 4301 East Guadalupe Road. Admission: $20.00, Thursday — Saturday, March 29th — 31st. (480) 813-0051 ext. 4421