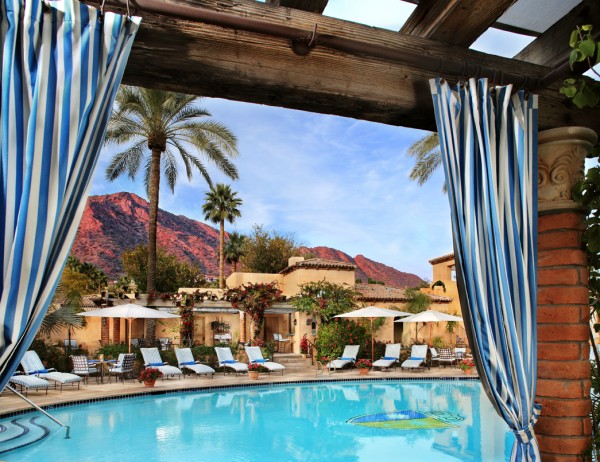 It's no secret that the mercury creeps upward in the Valley, but as temperatures rise, resort rates fall""and it's the locals' time to live like rock stars. The summer months ushers in a dramatic drop in resort rates and incredible summer savings.
Summer is when prices at resorts in Greater Phoenix plunge as much as 60 percent, offering unparalleled discounts. Some top resorts offer rooms as low as $89; others package discounted accommodations with dining vouchers, golf deals and spa treatments.
But as the dog days of summer start dwindling, so does your chance for a successful summer staycation. For most resorts, Labor Day weekend marks the end of their special summer offers""meaning you have little more than a month to strike while it's (literally) hot.
Don't miss the chance to experience the Arizona Biltmore's exciting "Hollywood & Wine" festival with its special "Buy 2 nights, get 1 night free" deal, available only through September 4. Or, take advantage of "99 Hot Dates of Steaming Rates" with the Royal Palms Resort and Spa; offered exclusively to Arizona residents, guests can stay for just $129 when combined with one of the following steamy summer specials: a $99 Alvadora Spa treatment, a $99 T. Cook's dinner for two, or a $99 Cabana rental. Though the dining and spa summer specials can be enjoyed singularly, combined with the room rate, the savings absolutely sizzles with 50% off upgrades""but is only offered until September 10.
The Centre for Well-Being at The Phoenician is offering an exclusive "Summer Scrub and Massage" summer spa special. Ideal for men and women, the offer features a 30 minute coconut/pineapple or raspberry/pomegranate sugar scrub followed by a full 50 minute swedish massage, finishing with complimentary body butter""plus, all the products used are made locally with organic ingredients. The offer is only valid now through September 30, 2012, for just $179. Or, enjoy "Spa Weekday Happy Hour" at the Golden Door Spa at Boulders Resort now through September 4, 2012. Spa Happy Hour services include your choice of a Golden Door Therapeutic or Reflexology Massage for just $99.
Local eateries are no exception either; though summer may be half over, but the summer specials sure aren't! Now through September 11, Fox Restaurant Concepts is offers the ongoing "100 Days of Summer," featuring happy hours, community dinners, half priced wine nights and special lunch and dinner menus. From The Arrogant Butcher's happy hour appetizers and drink specials for just $2- $8, Monday-Saturday, 3-6pm to Culinary Dropout's "double blind happy hour" (a paperbag beer and a shot for $6), you don't want to miss out on some of the Valley's best summer deals. Other offers include: ½ price bottles of wine (including reserves) every Sunday at The Greene House; the Dinner Special for Two, which includes two burgers, sandwiches or salads and one order of hand cut fries, at Zinburger; the $20 summer sampler at Sauce; and sangria $6 glasses or $16 pitchers, Tall Boys (select beers) $6 or bucket of 4 for $20 and $3 small plates of tostadas or tacos at Blanco.
Yes, it may be hot outside, but you don't have to be. Phoenix makes it easy to keep cool, have fun and relax at some of Arizona's top-rated luxury resorts, spas and restaurants""all at an affordable price.
This post was brought to you by our communications intern, Nicole. Thanks, Nicole!