Downtown Phoenix has lots of little gems when it comes to restaurants, but perhaps none is more nationally acclaimed than Pizzeria Bianco.  This little slice of pizza heaven (although don't expect to order pizza by the slice here) is the creation of Chef Chris Bianco. This James Beard award winner believes in sourcing local foods first. I love chefs like Chris. He wants to know everything about the food he prepares and serves – who grows the vegetables and how, what are the chickens and cattle fed and how are they treated. This understanding and passion for food is the basis for a great restaurant and, in this case, great pizza.
For those of us who work and/or live in Downtown Phoenix, the announcement that Pizzeria Bianco will now be open for lunch was music to our ears.  For years, dinner has been the only option and that often meant a long wait, even if you arrived at 5pm. You see, it's a tiny restaurant which, of course, creates a cozy, welcoming atmosphere and adds to its appeal, but doesn't leave a lot of room for seating.
I practically raced over to Bianco's once it was open for lunch and dug into the Rosa – a delightful white pizza with  Red Onion, Parmigiano Reggiano, Rosemary and AZ Pistachios. One word – YUM. My dining companions had the Margherita and added Fennel Sausage from Schreiner's Phoenix. They both "cleaned their plates" so I take it they were pleased with the choice. In the spirit of keeping things simple, the menu offers two Small Plate options, three Salads and six Pizzas, plus House Made Country Bread with a side of Olive Oil for dipping.
Pizzeria Bianco has been lauded by publications such as The New York Times and Everyday with Rachel Ray. Check it out for yourself and see if you agree. I have a feeling you will. Be sure to also check out Chris's other restaurant: Pane Bianco (also featured on this blog).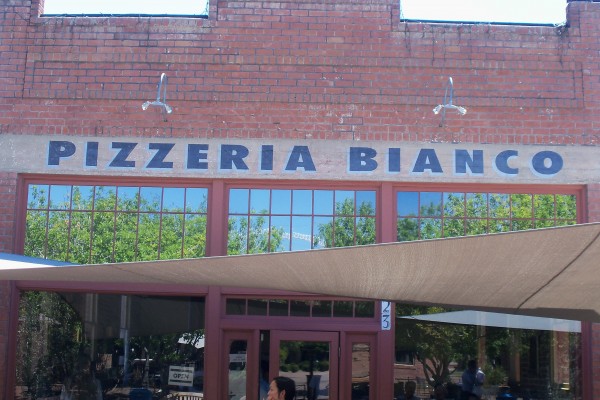 Pizzeria Bianco
623 E. Adams Street, Downtown Phoenix
(602) 258-8300