Our former communications intern Tayllor took a ride on the Predator Zip Line Over Out of Africa Wildlife Park. She offered to share the details of her experience with us. Enjoy!
You really can zip line over lions, tigers and bears at Out of Africa Wildlife Park in Camp Verde, Arizona. Take it from me, the experience gives an entirely new meaning to the saying, "Oh my!"
Known as Predator Zip Line, visitors get the chance to soar high above the ground and get a different perspective on the wildlife below. The tour has only been around for about a year, and it's already turning heads.
Once you climb the 75 feet up to the top of the Kilimanjaro tower, you'll find yourself flying over leopards and giraffes. In my case, I ended up only a few dozen feet above the head of a friendly lion laying on the roof of his house.
The zip line experience includes seven massive towers, five zip lines and a precarious rope bridge that requires strapping in for safety. The entire experience lasts two and a half hours and ends with a 1,000-foot Racing Raptor triple zip that lets you fight your friends for first. I was lucky enough to win that challenge against some new friends I met on the tour (hat tip to the family from Laguna Beach).
Before you can glide through the air, however, you will find yourself covered in some fancy equipment and pulleys, plus a glorious yellow helmet for added safety and fashion. It's just not the full experience without that helmet.
Once I climbed to the top of the first tower, and found myself quite out of breath, I was privy to a view of the enormous park that would have otherwise been impossible. I'll share a secret with you: I'm not a fan of heights or flying through the air on a cable. But believe me when I say the view was worth some anxiety.
After a few minutes of quick training on procedure, I found myself barreling through the air. It was exhilarating and thankfully much less terrifying than I was anticipating. By the end of the first zip, I was ready for more. I quickly clambered into line behind my fellow tourmates, ready to do it again.
Between flights, we were able to stop and ask questions about the animals in the park. I even got to see some tigers getting a bath and romping through their exhibit, which is something I would have completely missed from the ground.
I'll admit I got brave by the end and I actually managed to let go of all those ropes that were tethering me to the line above me. The others on the tour got even bolder and managed to go backwards or upside down, although I'm neither coordinated or courageous enough to do that. The guides were willingly doing tricks that would make me panic.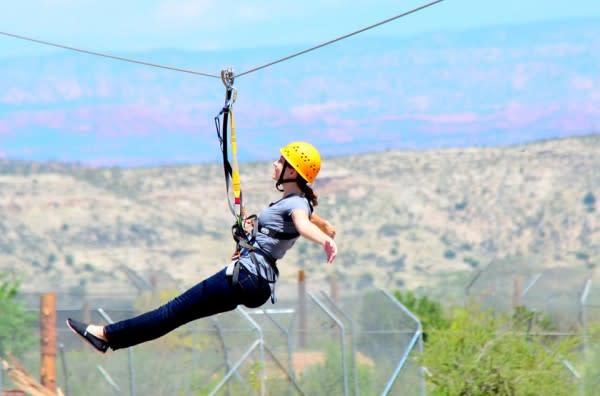 Each tour includes about 10 people and two guides to make sure everything runs smoothly. There's also a photographer on the ground to take some great photos of your brave moments on the wire, which are available for purchase after the tour.
If you want a shorter experience, you can also opt for just the final Racing Raptor line. For the extreme visitors, there's a Night Flight tour that takes place under the cover of night. Imagine hearing, and not seeing, hyenas and wolves below you as you zip around the park.
The zip line tours do require reservations, which can be made by calling 928-567-9947. They tend to fill up quickly, so make your reservation as soon as possible!
Predator Zip Lines Over Out of Africa Wildlife Park
For GPS or driving directions only use:
3505 W. SR-260, Camp Verde, AZ 86322
—or—
3505 W. Camp Verde Bridgeport Highway, Camp Verde, AZ 86322
928-567-2840