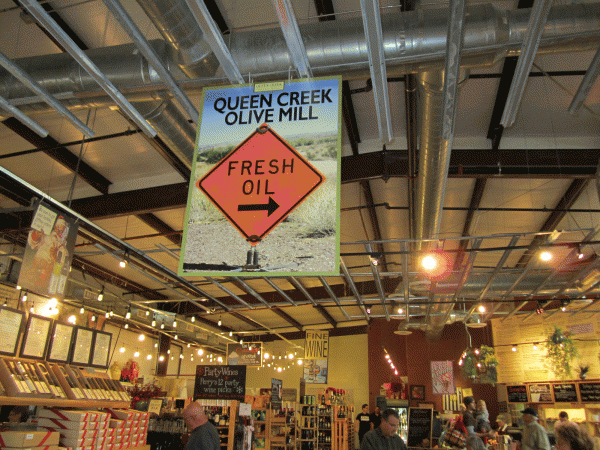 I really love discovering local treasures. I'm just sorry it took me so long to make it out to the Queen Creek Olive Mill. Since I'm such a sucker for breakfast, we opted to try theirs out. I had to go for the vanilla bean olive oil waffle with bananas and pecans (hint: waffles are served all day). And, as luck would have it, we arrived before 10:30 and got a discount on breakfast by checking in via FourSquare. To describe the waffle as delicious would be an understatement. Other waffle options include the Classic and Berries & Cream. The rest of the menu looked equally fantastic, but I'd be hard pressed not to get the waffle again.
After eating, we wandered through the retail area (and made purchases, of course) and then took the tour. The retail store includes more olive oil options than I ever thought possible, a variety of tapenades, an olive bar, cupcakes, lotions, etc. If you can put olives or olive oil in it, I think they have it. They also offer a nice selection of wines including many from local wineries. And be sure to take advantage the olive oil and tapenades samplings.
I highly recommend making the tour part of your visit to QCOM. It's only $5 per person, and you really get the low down on how they produce their extra virgin olive oil using sustainable farming practices.
Oh, don't forget to grab some gelato on your way out. I can vouch for the chocolate olive oil flavor (yum), and a little QCOM birdie told us that the raspberry gelato drizzled with chocolate olive oil is a must. They do mix it up with their gelato flavors so who knows what they might have when you visit.
To see more photos of my visit to Queen Creek Olive Mill, check out our Flickr stream.
Queen Creek Olive Mill
25062 S. Meridian Road
Queen Creek, AZ 85242
queencreekolivemill.com