ROKE – er – eee (like "brokery" without the 'b')
Door one, door two, open either and you'll be taken from the palm trees of Central Phoenix to a cozy hideaway. It owesit's design influence to stone, wine bottles, and chalkboard, but the essence of Rokerij is in the wood. Yes, beautiful wood floors and bar, but the wood in the fireplaces and the stoves move your senses to a different place. Next to the stove is a  barrel of conwood that is so fragrant, and before nearly every dish, a new log is thrown in. How's that for home-cooked?
Downstairs, The Cellar is a long bar with a full menu, but the seats to grab are the fireside leather couches, which is the best pairing I can think of for their wine list. Upstairs, the restaurant is just as quaint, but if you're with party of more than two or three, this is where you can snag a cooshy booth or a seat at another extended bar.
But let's not forget why you came – because you're hungry. The food is amazing. The locals know the Richardson's family of restaurants, which consists of Richardson's, Dick's Hideaway and Rokerij. Richardson's and Dick's are located just a few blocks away from Rokerij, both at 16th St and Bethany Home Road (on same corner as Luci's Healthy Marketplace).
Anyway – back to the food – the Richardson's do everything right. Rokerij features everything from a burger to red chili osso bucco. My favorite part, though, are their small plates. I am minorly addicted to the beef tenderloin toasts with French triple creme brie (shown below), the tomatillo toasts with grilled chicken and ham, and the shortribs (also shown below). They are really reasonable and truly 1 – 1 1/2 will do you for a meal.
But everyone wants to know about deals so guess what – Rokerij has them. From 3-6pm, and 11pm – close, small plates are only $5 (usually $9), and well drinks and glasses of wine are $5 as well. The real kicker – a nightly special of dinner for two. Last time I was there – dinner for 2 was only $42 and read the chalkboard to see what it included: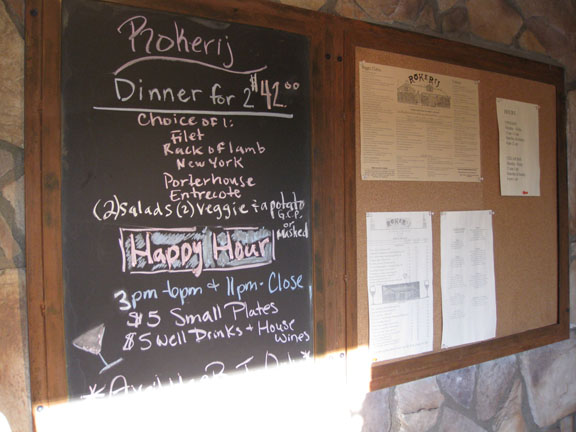 The dishes are absolutely mouthwatering. If you're a local and haven't been, you really need to get out more, and if you are coming to visit us in the Phoenix area, this is a can't-miss.
http://richardsonsnm.com/rokerij/
6335 N 16th St
Phoenix, AZ 85016
(602) 287-8900
16th Street, just south of Maryland