You might see SanTan's brews around the city, but it's worth the pilgrimage to its East Valley pub located among charming boutiques and eateries.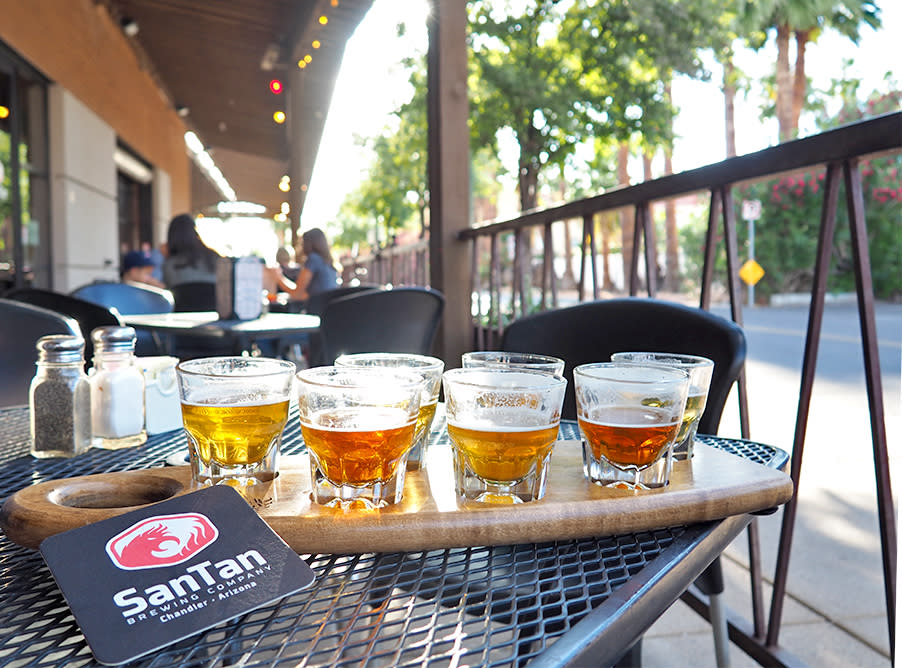 As an amateur foodie and beer enthusiast, it's my mission to explore the hops and hospitality of Phoenix's breweries. In my most recent adventure into the local beer scene, I tried popular brews from SanTan Brewing Company on its home turf. 
SanTan's craft beer legacy reaches far and wide within the state: You're bound to find a tap of Devil's Ale or a can of Mr. Pineapple, their popular seasonal wheat ale, gracing a local joint or grocery shelf. And while the brewery boasts national awards and a distribution from Texas to SoCal, it keeps its homegrown roots in a bustling neighborhood brewpub in Phoenix's East Valley.
The pub occupies a corner of a charming strip of boutiques and eateries in Downtown Chandler. Chic industrial decor and exposed brick pay homage to the pub's historic 'hood, and on a pleasant day, a series of garage panels kick open to outside bar seating and a patio winding around the side street. The suds in steel tanks themselves are secluded in the Brewer's Reserve, the pub's private event space. Higher carbonation and a complete fermentation give SanTan's brews the distinction of Southwestern Style Ales: Crisp and refreshing, suited for sipping in the warm desert climate.
That's why the sampler I handpicked, composed of light ales and citrus wheats, resembled an artists' palette of caramel and gold. Even the names quench the thirst: SunSpot Gold. MoonJuice. LimeLeaf. And Mr. Pineapple, with his sweet personality. While the HopShock and MoonJuice IPAs held their own with fruity flavors, the brewery's flagship Devil's Ale was my favorite for its balance and ease to drink. I'll give a special shout-out to LimeLeaf, the summer seasonal available through July, for its clean finish and intriguing splash of kaffir lime.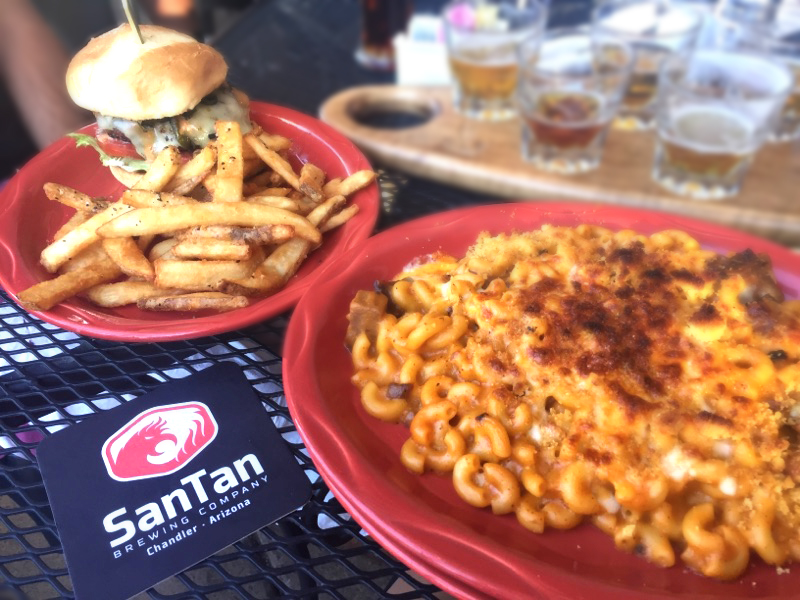 If the drinks are brewed for a Southwestern thirst, the menu is stacked for a Southwestern appetite: Think Texas beef dip, Sonoran dogs, chipotle asado, and a fleet of taco and burger varieties. I started with two large soft pub pretzels, and ended with San Antonio Mac + Cheese, a monstrous meal of noodles, beef brisket, Devil's Ale-infused BBQ and crumbled corn bread.
You might see SanTan's brews around the city, but it's worth the pilgrimage to its pub for a filling plate and a refreshing pour.
SanTan Brewing Company
8 S San Marcos Pl, Chandler 85225
(480) 917-8700