The celebrity chef, known for "Chopped", "Top Chef", and his many other restaurants, joins the Phoenix culinary scene.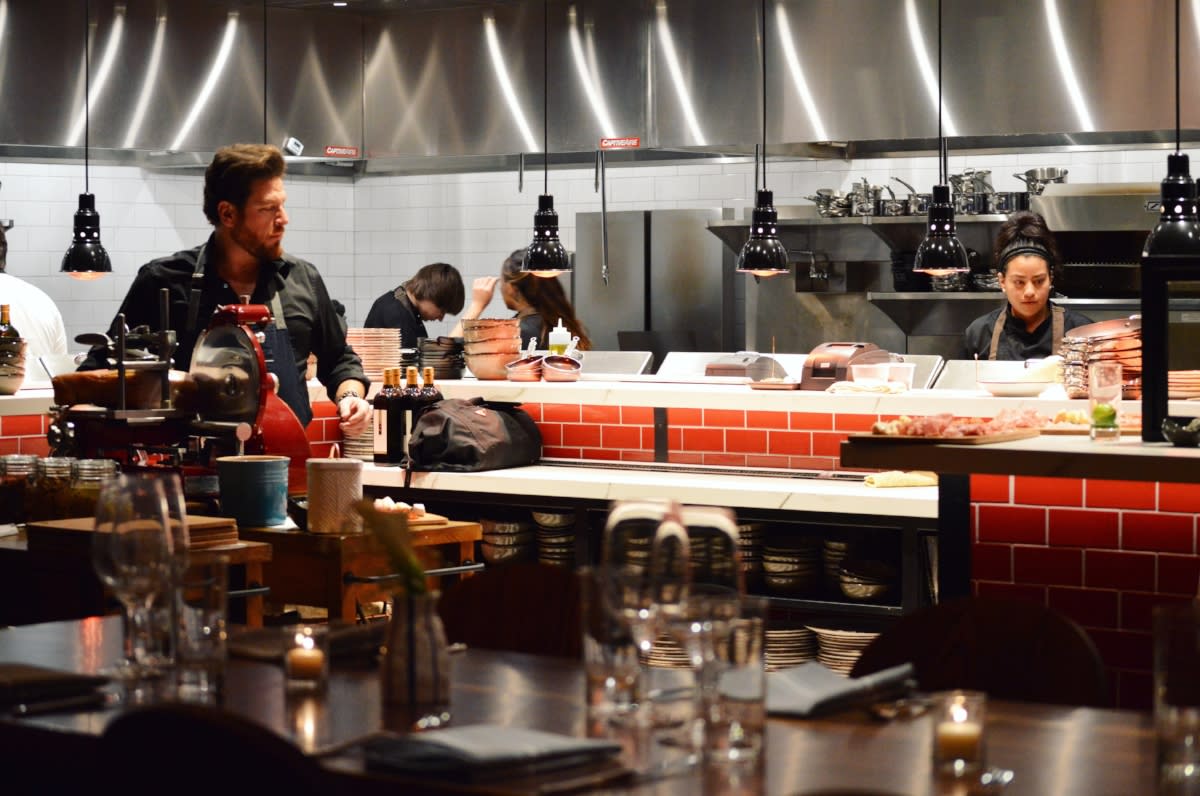 This post is by guest author Lauren Topor, a local food journalist.
The wait is over.
Make those reservations, folks. Mora Italian officially opened its doors earlier this month and pasta lovers are awfully happy about it. 
The restaurant is James Beard Award winner Scott Conant's new concept in Phoenix, and it just so happens to be located in one of the most exciting spots in town -- the burgeoning food-centric district that is 7th St. Neighboring Culinary Dropout and steps away from The Colony -- home to Stock and Stable, The Herb Box (edit: this location has now closed. Herb Box is still open in Old Town Scottsdale and DC Ranch), and the Prohibition-style cocktail bar, Honor Amongst Thieves -- the star chef's modern Italian spot is a welcome addition to the neighborhood. 
Conant, whose career spans over 30 years, is one of the nation's top restaurateurs, as well as an established television personality, appearing on "Chopped", "Top Chef", and many other programs. He is also the author of "New Italian Cooking", "Bold Italian", and "The Scarpetta Cookbook". Alongside the developers behind The Colony, David Sellers and Bob Agahi, he partnered with locally lauded Stefano Fabbri of Pomo Pizzeria to bring his style of soulful Italian to Phoenix's dining landscape.
 
"It's a buzzy little osteria -- a fun hangout with great food," Conant says of his new opening. "It's the kind of spot you want to hit a few times a week." 
It's the latest in a long line of Italian concepts for Conant, whose New York-based restaurant Scarpetta has branches in Miami, Las Vegas, and Philadelphia. And now he's here in Phoenix. After falling in love with the Valley, Conant, his wife, and daughters uprooted from New York and headed west to Scottsdale.
"I was truly impressed when I first visited Phoenix," he says. "There's great momentum and a genuine inclusiveness in the culinary scene here. It's been fun eating my way across the city and being a part of it." 
Even bolder than his flavors, Conant's move to Arizona was a snap decision. After a call to clear it with his wife, he was looking for a house in the area within days. Since relocating, Conant has been able to spend more time with his family, scrapping his usual 16-hour workdays (not to say they're gone forever, just that he's now focusing more on having some balance in life). 
At Mora, guests will find a variety of osteria-inspired dishes, with a standout being Conant's signature polenta served with an out-of-this-world truffle mushroom sugo.
The grilled octopus with cecu bean puree, crispy potato, cured olives, chili, and mint is another highlight, as is the spinach and gnudi with concentrated tomato sauce. But the real must-order is the spaghetti pomodoro, which is swirled to perfection just like the one at Scarpetta.
On top of those dishes, the bread offering is a shining star. A tableside delivery cart showcases locally baked country loaves of housemade focaccia and ciabatta, all served with artichoke bomba, a roasted garlic spread, hearty eggplant caponata, and marscapone butter. It's guaranteed to be a favorite of carb lovers everywhere.
And while Mora just opened its doors on February 3, Conant already has his hands in other local projects, including a new food festival that was just announced. He'll host the "Best of the West" party on the final evening event of the first-annual Nirvana culinary festival, which takes place at Sanctuary Camelback Mountain Resort from April 27 to 30. He'll be joined by Robert Irvine, Chuck Wagner, Todd English, and Beau Macmillan, as well as local chefs including Mark Tarbell, Justin Beckett, and Gio Osso, among others, throughout the four-day event. 
So whether you're going to hit the festival or just take in a meal at Mora, make your reservations now, because it sure is an exciting time to be a foodie in Phoenix.
Mora Italian
5651 N 7th St, Phoenix 85014
(602) 795-9943
 
Guest author Lauren Topor is a Phoenix writer and lover of all carbs. Follow her to Mora's tableside breadcart on Instagram at @hungryinphoenix.