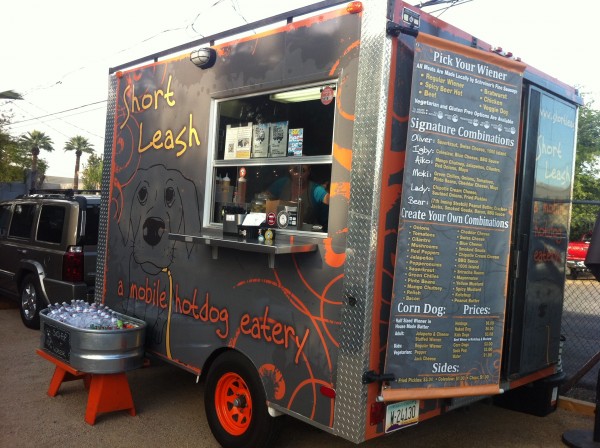 Probably one of the most well-known food trucks in Phoenix, Short Leash Hot Dogs slings gourmet hot dogs named after real-life dogs, topped with fresh, and sometimes unexpected, ingredients all wrapped up in naan bread. Owned by husband and wife team, Brad and Kat Moore, Short Leash Dogs has also been featured on many "best of" lists and on national television shows like the Cooking Network's Eat Street.
Our personal favorite Short Leash specialty is the Aiko, with a spicy beer hot topped with mango chutney, diced jalapenos, red onion, fresh cilantro and mayo. We're also a fan of their rotating specials and corn pups.
Short Leash Hot Dogs is one of the first (and we're sure not to be the last) food trucks to have a semi-permanent location with their Sit, Stay setup. The concept serves an expanded menu and is open on Friday nights 6-8pm behind Medlock Plaza, near Central Avenue and Camelback Road.
You can find Short Leash Dogs consistently at Urban Cookies (4711 N. 7th Street, Phoenix) from 11:30am — 1:30pm on Tuesdays, at the Valley Youth Theater (525 N. 1st Street, Phoenix) from 11:30am — 1:30pm on Wednesdays, at the Phoenix Public Market (14 E. Pierce Street, Phoenix) on Wednesdays from 4-8pm, on Fridays for Food Truck Friday from 11am — 1:30pm and on Saturdays from 8am — 12pm. Then at their Sit, Stay location (12 W. Camelback Road, Phoenix), on Fridays from 6-8pm. Make sure to follow Short Leash Hot Dogs on Facebook and Twitter to find additional locations and times.
The food truck craze has exploded in Phoenix with many opportunities to eat from these rolling gourmet "restaurants." We've eaten from many of the food trucks throughout Phoenix and wanted to highlight them individually for you. You can find the food trucks on a regular basis at the Downtown Phoenix Public Market  on Wednesday evenings from 4-8pm, Fridays from 11am — 1:30pm and on Saturdays from 8am — 1pm. At the North Central Farmers' Market on Saturdays from 9am — 2pm, the Third Thursday of the Month at the Whole Foods Raintree location from 11:30am — 1pm. There are always many more opportunities that you can find by following your favorite truck individually or by following the Phoenix Street Coalition. Bon Appétit!