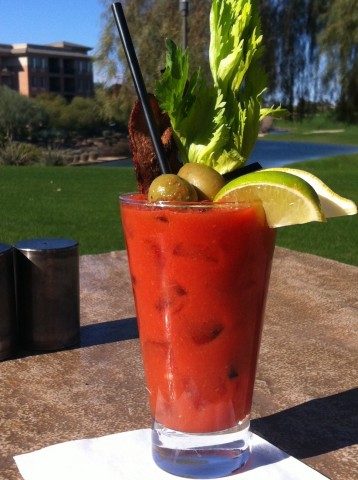 This recipe, courtesy of the The Brittlebush Bar & Grill at The Westin Kierland Resort & Spa, is the perfect cocktail to offer your guests this weekend at your football or Waste Management Phoenix Open gatherings. This old favorite is freshened up with super food ingredients sure to make your taste buds and body happy. Emerging science shows that certain super foods are even more nutritious when paired together than when they are eaten separately.
Super Foods Bloody Mary Blend
Recipe:
1 each tomato
2 oz crushed tomato
1 each ginger thumb
1 each garlic
½ c carrots
¼ c celery
½ each jalapeno (seeded)
Puree and add yogurt to desired consistency
Tomato: Lycopene, which reduces oxidative cell damage and protects the skin against the sun; vitamin C; B vitamins. Reduce' the risk of cancer, protect skin, prevent macular degeneration, lower cholesterol.
Ginger: medical uses include the treatment of nausea and morning sickness during pregnancy, motion sickness and some cancer treatments. Ginger can also help reduce the pain and inflammation of osteoarthritis, the most common form of arthritis.
Garlic: This is a powerful organosulfate that's important in detoxification. It will help clean your body of leftover chemical residue from drugs or pollutants, secondhand smoke, and metabolites from alcohol.
Celery: Excellent source of Fiber.
Jalapeno: The heat source in chilies, capsaicin, is an antioxidant. Contains blood thinning properties to prevent strokes, lowers cholesterol, protects DNA against carcinogens, may stimulate release of endorphins ("natural high" chemicals)
The recipe was created from the build-your-own Bloody Mary menu at the Brittlebush Bar & Grill. The Bloody Mary menu boasts choices of 8 vodkas, 21 add-ins, and 17 garnishes, guests can create the perfect tasting drink. Walk, ride your bike, and bring along the entire family (including your four-legged friends) to Brittlebush Bar & Grill at The Westin Kierland Resort for this unique Breakfast experience with a neighborhood feel.