This blog is devoted to revealing the little gems in the Phoenix area, and Sweet Republic is one of those places. As soon as you've been, you want to call every single person you know and tell them to run there. And now that they've announced their holiday flavors, we have to share the wealth.
Sweet Republic Artisan Ice Cream starts every amazing batch with all-natural ingredients. That means, for example, using real mint leaves instead of mint flavoring. And real vanilla beans. And the best chocolates, fair trade coffee, real honey and blue cheese. Blue cheese? Yes, blue cheese. The Sweet Republic founders are real artisans for both their high-quality ingredients but also their true mastery of flavors.
On the menu you'll indeed find Honey Blue Cheese, Earl Grey Tea, and Apple Pie, but more traditional flavors are perfected in the Belgian Chocolate, Peanut Butter Chip, Madagascar Vanilla and the big favorite – Salted Butter Caramel. People come for miles and miles for this, and it's worth it (of course, the Salted Butter Caramel Sundae with brittle and warm caramel on top makes it outrageously delicious).
They are always rotating some of their best flavors, too, like Bananas Foster, Hot Chocolate and Maple Pecan, and four times a year they unveil their seasonal treats. Just released are their limited-time holiday flavors: Eggnog, Peppermint Chunk, and Sugar and Spice, which is molasses sugar cookies crumbled into cinnamon ice cream.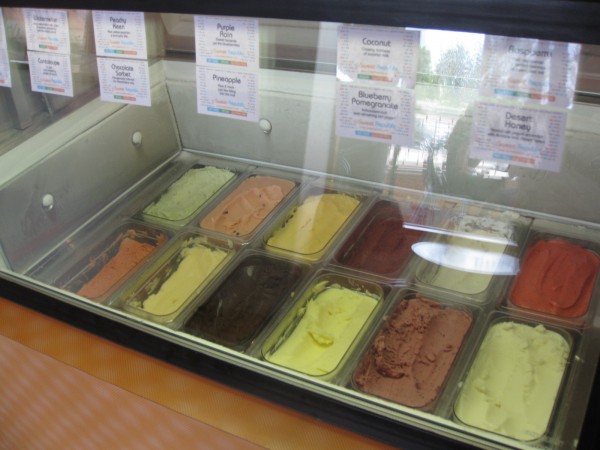 As if all this sweet talk hasn't whet your appetite enough, Sweet Republic also makes homemade bacon brittle (don't ask questions, just eat it and love it), homemade marshmallows, and sea salt caramels among other treats. Before you blame your diet for not indulging yourself, they also have amazing frozen yogurt and sorbet flavors available (Basil Lime, anybody?).
All this creativity – and deliciousness – is due to the work of the founders, Jan and Helen. Jan worked in finance throughout Asia, while Helen is a Le Cordon Bleu-trained chef who traveled and worked all over the world. And since the opening of Sweet Republic in 2008, they've been lauded by local press and was even featured on TLC's "Best Food Ever." Easy to see why.
Sweet Republic
9160 East Shea Boulevard #105
Scottsdale, AZ 85260
(480) 248-6979