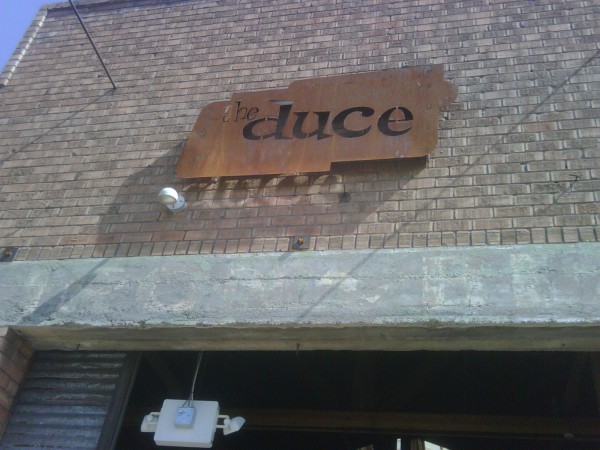 This post is courtesy of Doug, the communications director in our office. A big thanks to him for sharing his experience at The Duce in downtown Phoenix. Here's what he thinks:
The Duce, a new restaurant/café recently opened in downtown Phoenix in a restored, historic warehouse. It exudes fun and not only because of the food. They have a clothing store that sells fatigues and Flying V keds, as well as many college themed sweatshirts. The soda bar is across the space and serves freshly made soft drinks, shakes, and floats. My vanilla cola was made from scratch. The Pie Shop is scheduled to open in November with housemade pies.
At the main food area, the brisket sliders were as tender as I have seen served on mini challah knots and the meatball, chicken sausage and egg ones looked tempting.  Sides include cole slaw with raisins, baked beans, and potato crisps.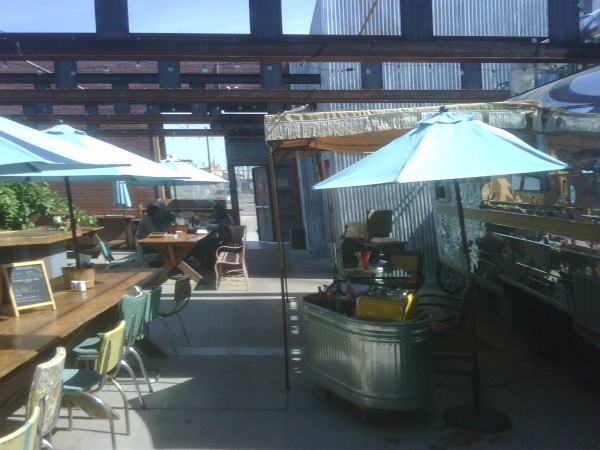 You order your food at the bar and then pick it in an Airstream trailer on the patio. Don't use your name — you have to give them a nickname to call when your order is ready. The organic wines are served in jars for one person or for a group. With patio dining and inside tables, it is a space that is well thought out. By the way, there is a boxing ring there, too with exhibit matches once a week and live music once or twice a week.
It is open for breakfast, lunch and dinner as well as late evenings and pre sports hours. Located at the corner of Central Ave and Lincoln Street, in downtown Phoenix.  Closed on Mondays.